How Does Aurelius Improve UX Research for Product Teams?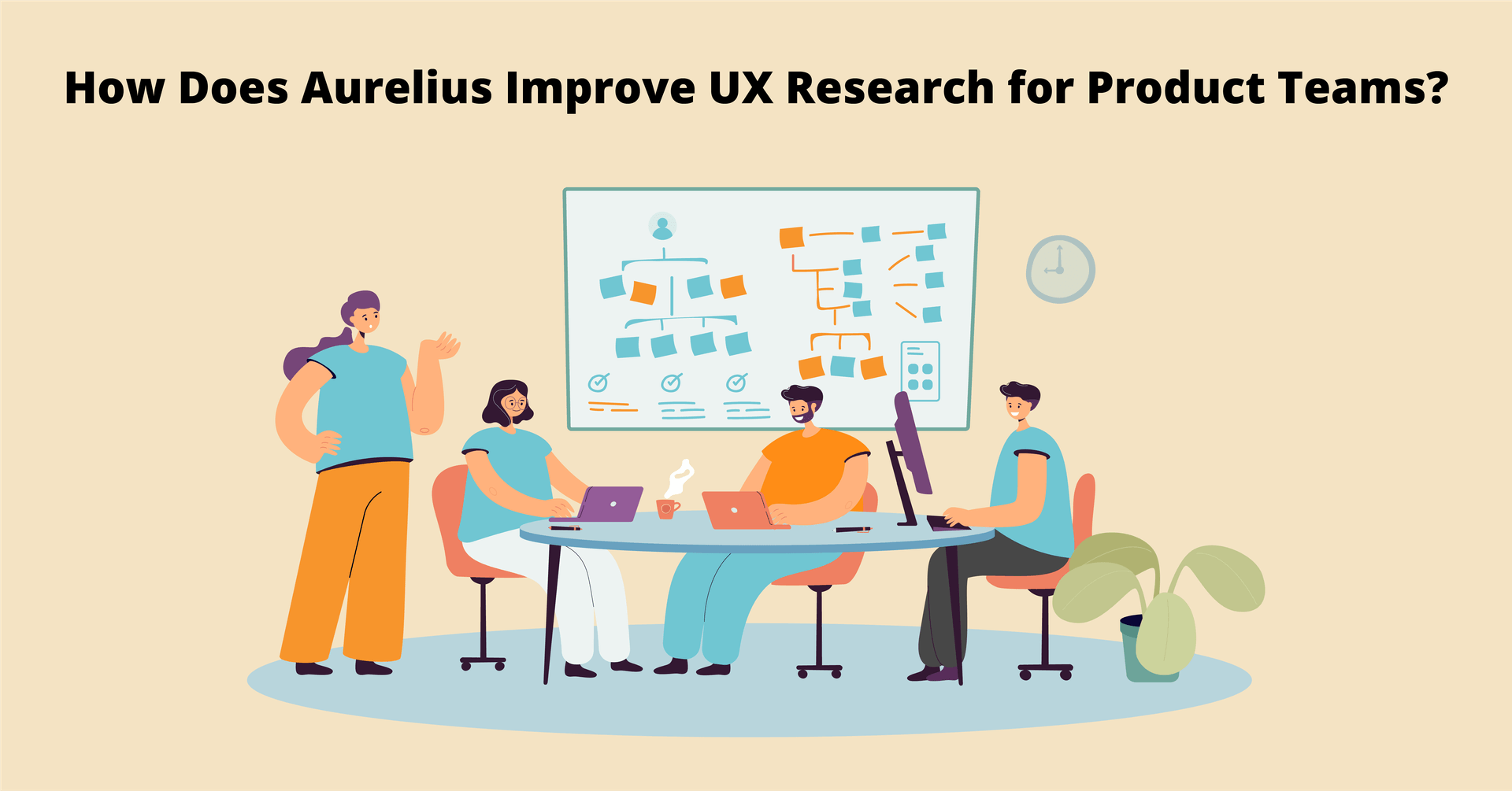 The most important step in designing a new product or making updates to an existing product is understanding the user. What do they like? Who are they? What are they looking for in a product? How can your product provide relief from a pain point?
Rather than guessing based on your personal experience, UX researchers can find answers to these pertinent questions through data-driven research. You give your audience a voice in the product development phase to ensure that the finished product is something they'll love and use for a long time.
While data collection is the key goal of UX research, analyzing and making the right recommendation is just as important for a successful product launch.
How do you analyze data in bulk without feeling overwhelmed? Is there a way to bring in all your research notes, excel spreadsheets, and interviews into one place?
In this article, we'll show you how Aurelius helps UX researchers and designers to analyze research data, make recommendations based on key insight and present your research to stakeholders from anywhere you are.
But first, the basics…
What is UX research?
UX research is the study of a group of target users to collect and analyze data that improves the product design process.
The goal of UX research is to inform product design from the view of the user. The two parts of UX research include qualitative measures to gather data and quantitative measures to analyze data and improve usability.
Qualitative research is focused on learning about the needs of the end-user. Research methods used include surveys, UX interviews, and reviewing existing literature.
Quantitative method focuses on usability where researchers conduct A/B tests to validate a hypothesis that will improve the design.
Why Is UX Research Important?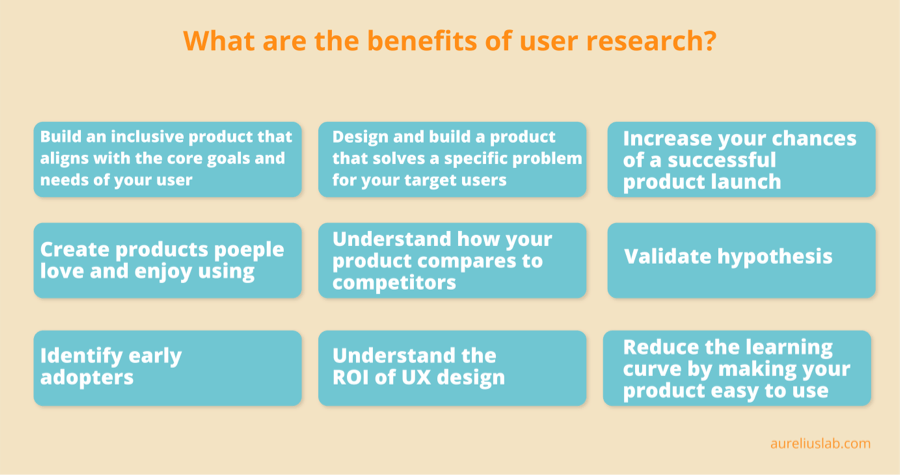 Increased Sales
A design study of 408 companies revealed that companies that invested in user research recorded higher sales, customer engagement, and customer retention. Prospects also moved quickly through their product cycles because the design was built around the user.
UXmatters shared an example of a company that skipped user research when building a new product. The project manager ignored advice from the UX design team to add user research to the scope of work.
When the product launched, it was initially successful, but a barrage of complaints two days later led to a terrible launch. They skipped user research, which meant the product didn't satisfy the user's needs.
Understand Your User's Needs
Products that go-to-market without user research have a higher chance of failure because it's not optimized for your ideal audience. UX research helps you identify biases and uncover misconceptions that would have been detrimental to success.
By investing in UX research, you see your users in action with your product. Observing their behavior enables you to create an inclusive design that ensures a frictionless experience for everyone.
Ensure You're Targeting the Right Audience
The initial customer persona is based on beliefs about the customer. However, user research gives you the opportunity to spot inconsistencies and check your personas for accuracy.
Less Costly Product Development Process
In his book, Software Engineering: A Practitioner's Approach, Roger Pressman said that for every dollar spent fixing a problem during product design, you'd save $10 dollars fixing the same problem during product development and 10x that amount after product release. That's a 10x – 100x ROI on UX research.
Other benefits of user research include:
Build an inclusive product that aligns with the core goals and needs of your user
Design and build a product that solves a specific problem for your target users
Increase your chances of a successful product launch
Create products people love and enjoy using
Understand how your product compares to competitors
Validate hypothesis
Identify early adopters
Understand the ROI of UX design
Reduce the learning curve by making your product easy to use
How Does Aurelius Compare to Other User Repository Software?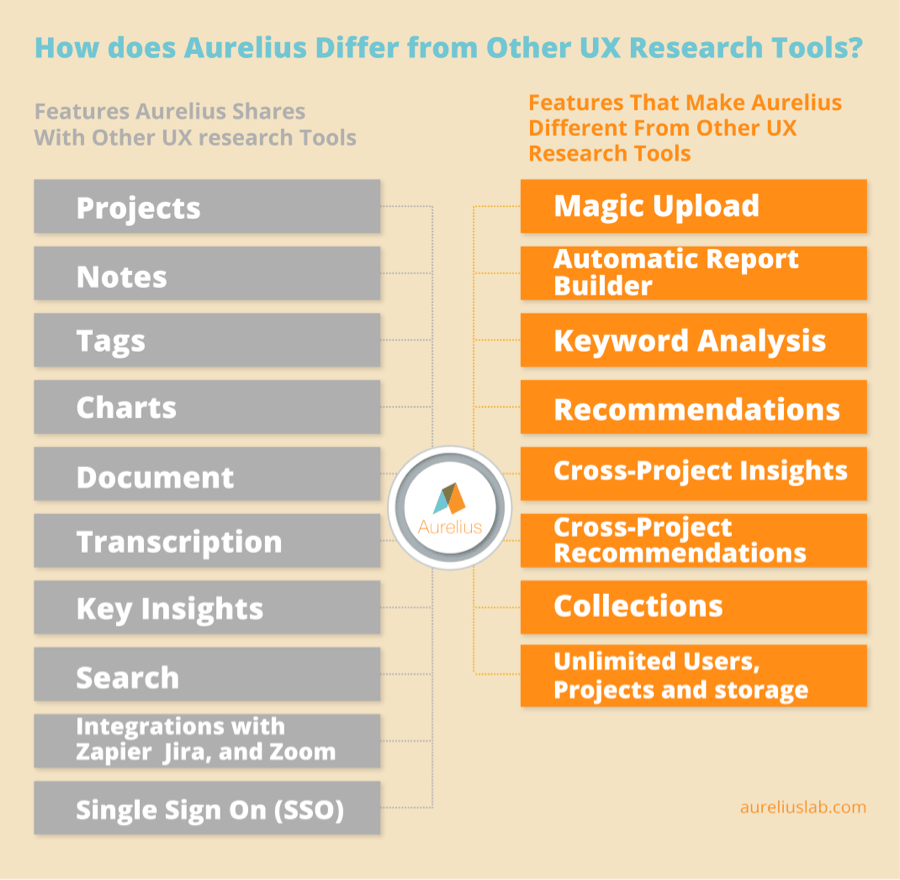 Projects
A Project is the first step to using Aurelius for research insights. Projects in Aurelius contain data like images, notes, videos, and text files. You also have Key Insights, Tags, Recommendations, and Reporting in your Project. There's no limit to the number of Projects you can create in Aurelius.
Your Project could contain:
Survey responses
Video/audio interview recordings
Usability testing sessions
Multiple research techniques
You can use Projects to:
Collect research notes
Tag them
Find patterns
Capture findings
Record outcomes
Make recommendations on the next steps
Here's a video that shows you how to create and use projects in Aurelius:
Pleaseto watch this video.
Notes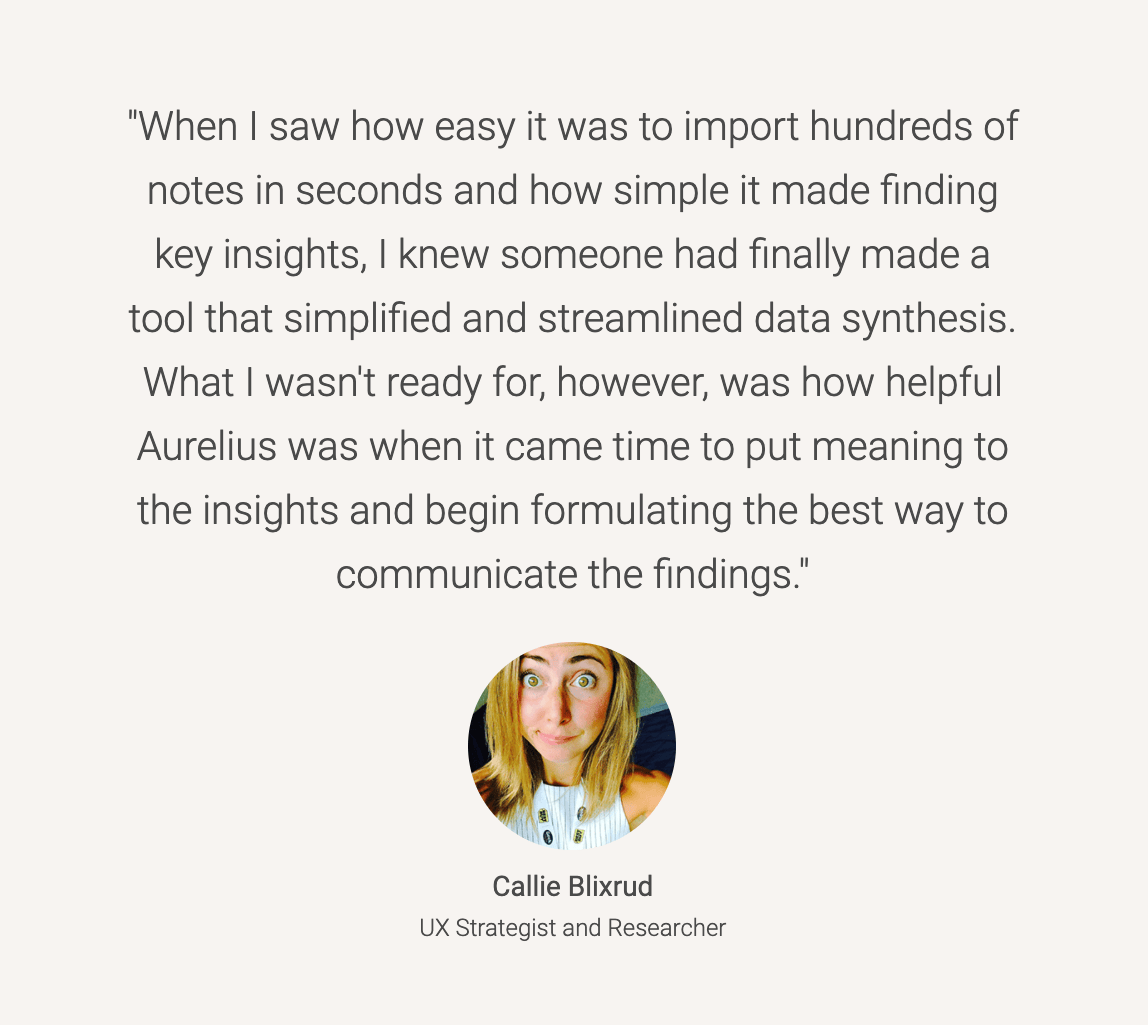 Aurelius stores research data as Notes. Your notes can contain images, text, audio, video, tables, and more.
Notes can be:
Feedback imported through the Zapier integration
Typing notes during customer interviews
Audio/video transcripts from usability testing sessions or user interviews
Files uploaded via the magic upload
Survey responses from a spreadsheet
To take a Note in Aurelius, click inside a Note group and start writing. Hit the enter key to create a new Note on the next line.
You can copy and paste bulk data from another Document into Aurelius or use Zapier to connect over 3,000 apps to Aurelius and create Notes automatically from these apps
To turn your media files into Notes, upload your video or audio files and transcribe them. The finished document will be added to your Note. If you have a file with selectable text such as a spreadsheet, PDF, or Word document, use the Magic Upload feature to turn your files to notes in Aurelius.
To organize your notes and make them easier to synthesize, you can add Tags to your Notes either individually, or in bulk.
You can also add Sentiments to your Note with a smiley or frown emoji.

Tags
A Tag is a descriptive name you give to a Key Insight or single Note in Aurelius. Tags are one of the most powerful features in Aurelius. They help you identify patterns that emerge across your research data.
Examples of Tags to use include:
Pain points
Names of research participants or customers
Product name or channels such as desktop or mobile
Goals of the research
Research questions
You can create Tags individually, on a Key Insight, or in real-time Notes.
Charts
Visualizing data makes it easier to understand. When working on a Project, Aurelius automatically generates Charts using your data and Tags. You can visualize data in a pie chart or bar chart.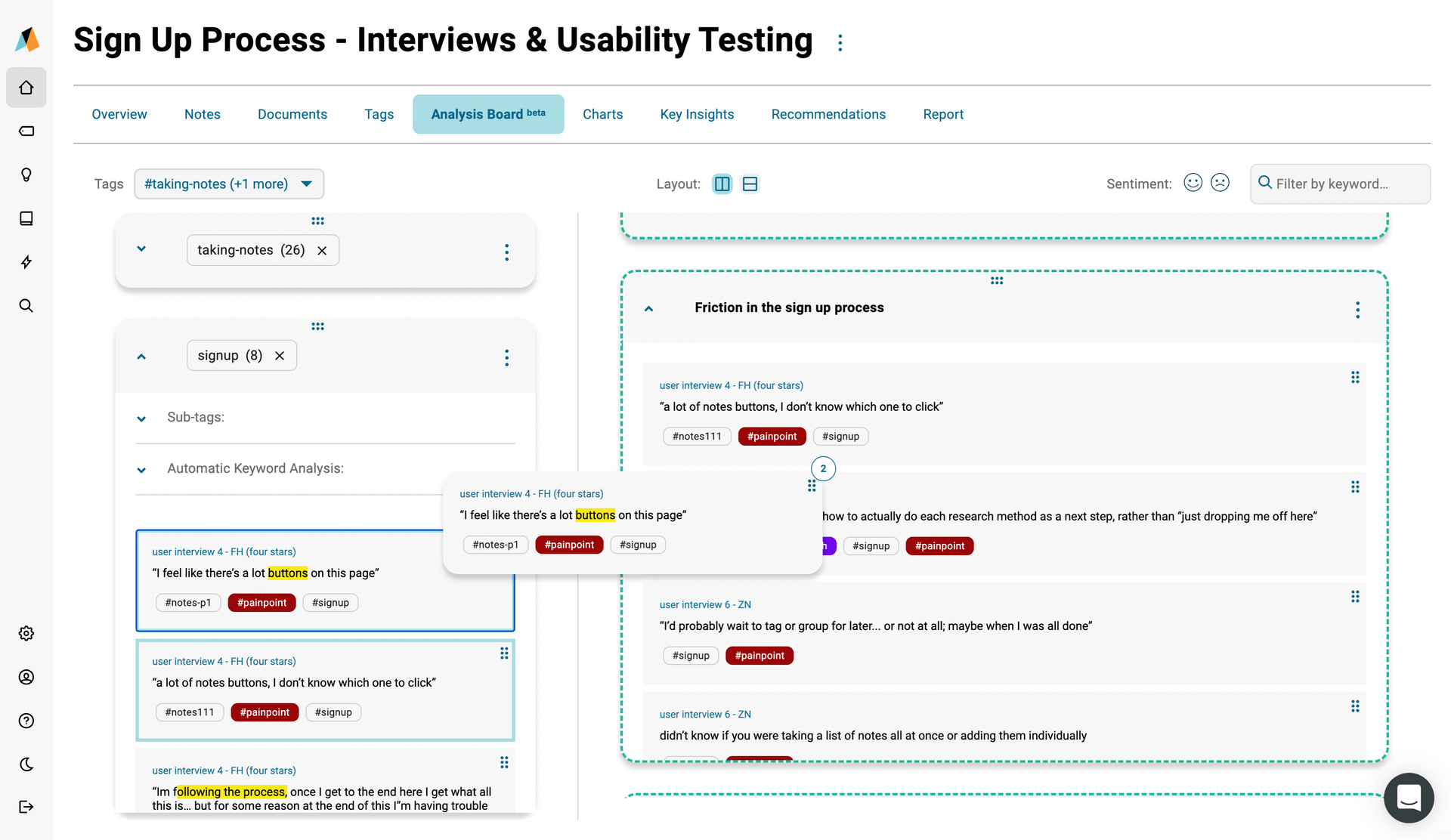 Documents
With Aurelius, you can upload any Document and add them to Key Insights just like Notes. Whether it's a bunch of research pictures you took on the field, raw survey files, or usability test videos that will work great as supporting evidence for your Recommendations, you can upload a file and transcribe it into Notes automatically.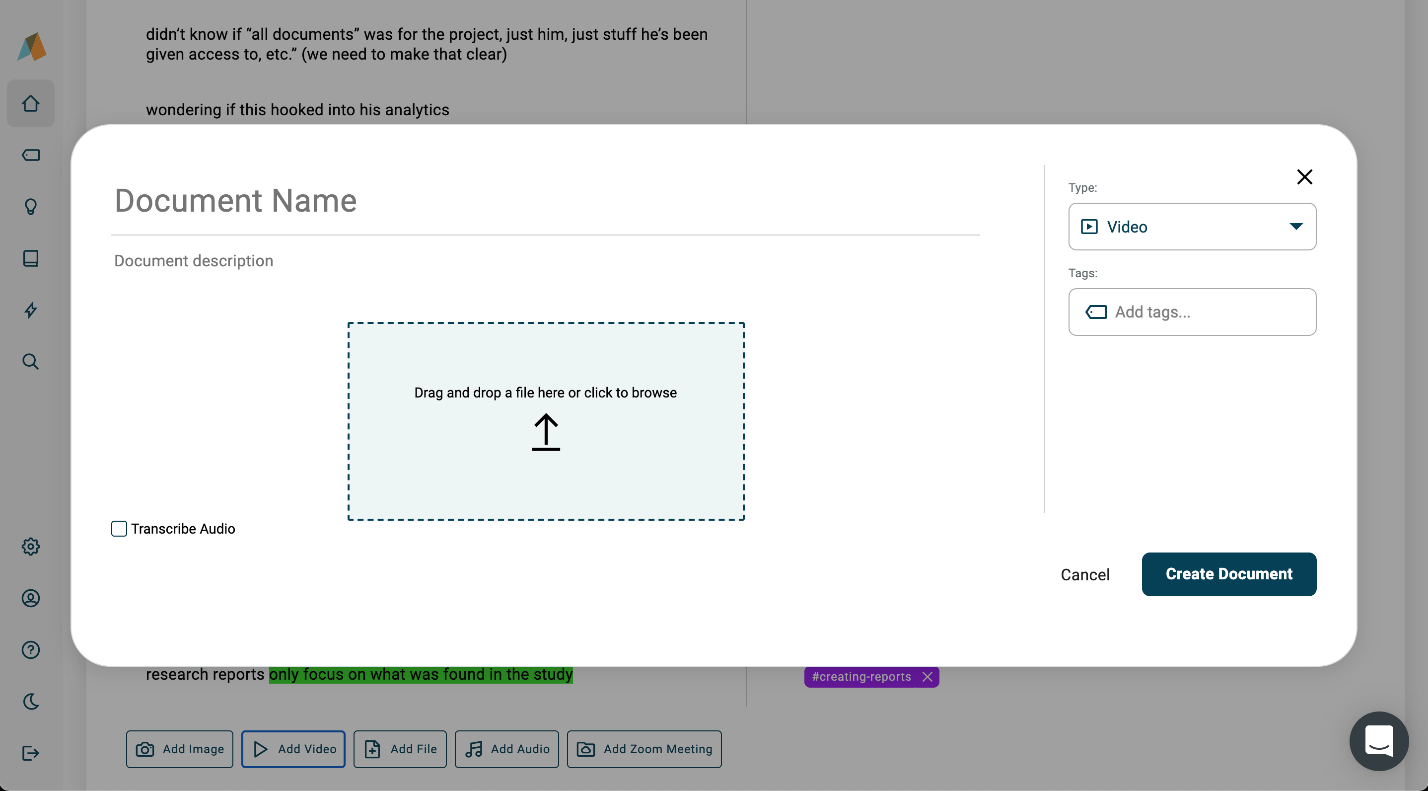 You can add Documents from the Notes page or from the Documents tab on your Project. Your Documents are also searchable by keywords such as title, name, or Tags added to them.
Transcription
No time to listen to video or audio interviews but need to analyze the data? Quickly turn video and audio files into text and Notes with automatic Transcription. English is not the only language we understand. Aurelius can transcribe audio or video files in over 180 languages.
To transcribe video or audio from the Notes page, click Add Audio or Add Video. Select a file from your computer, name it, click Transcribe Audio, and Create Document.

When the transcription is complete, you'll see it in your Project Notes in text format.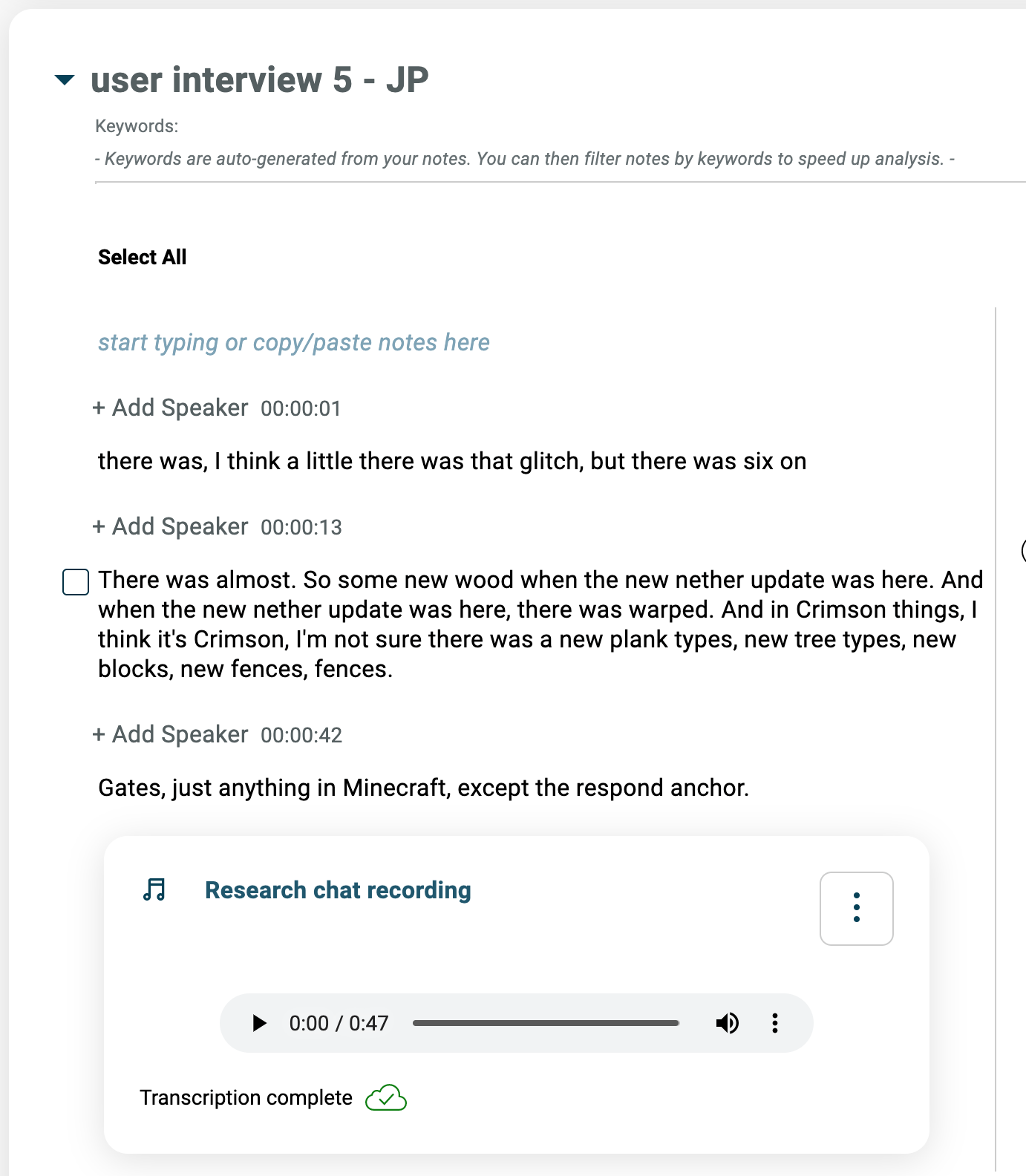 Similar to any transcription software, you can add speaker names or edit the text for accuracy.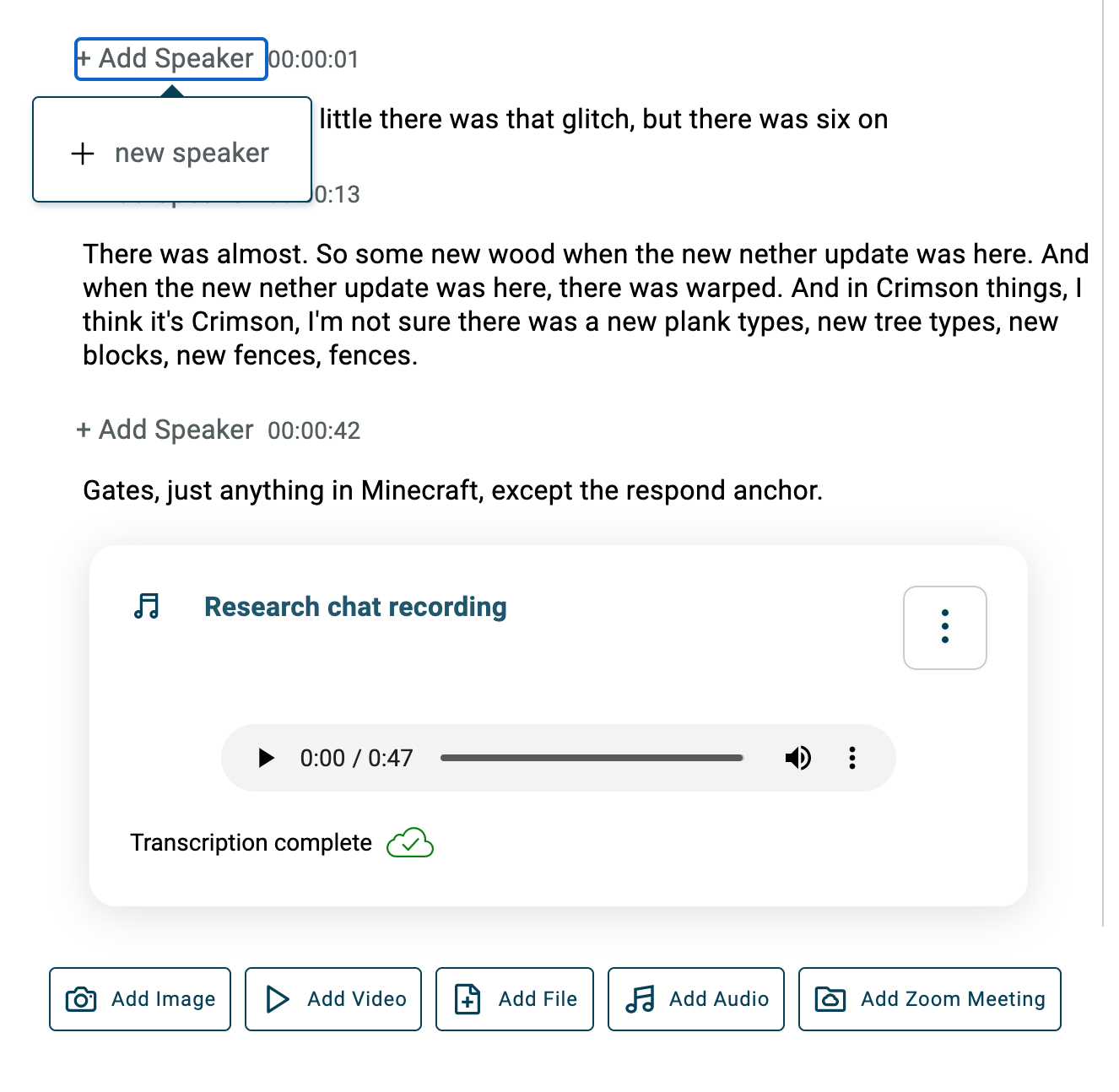 Key Insights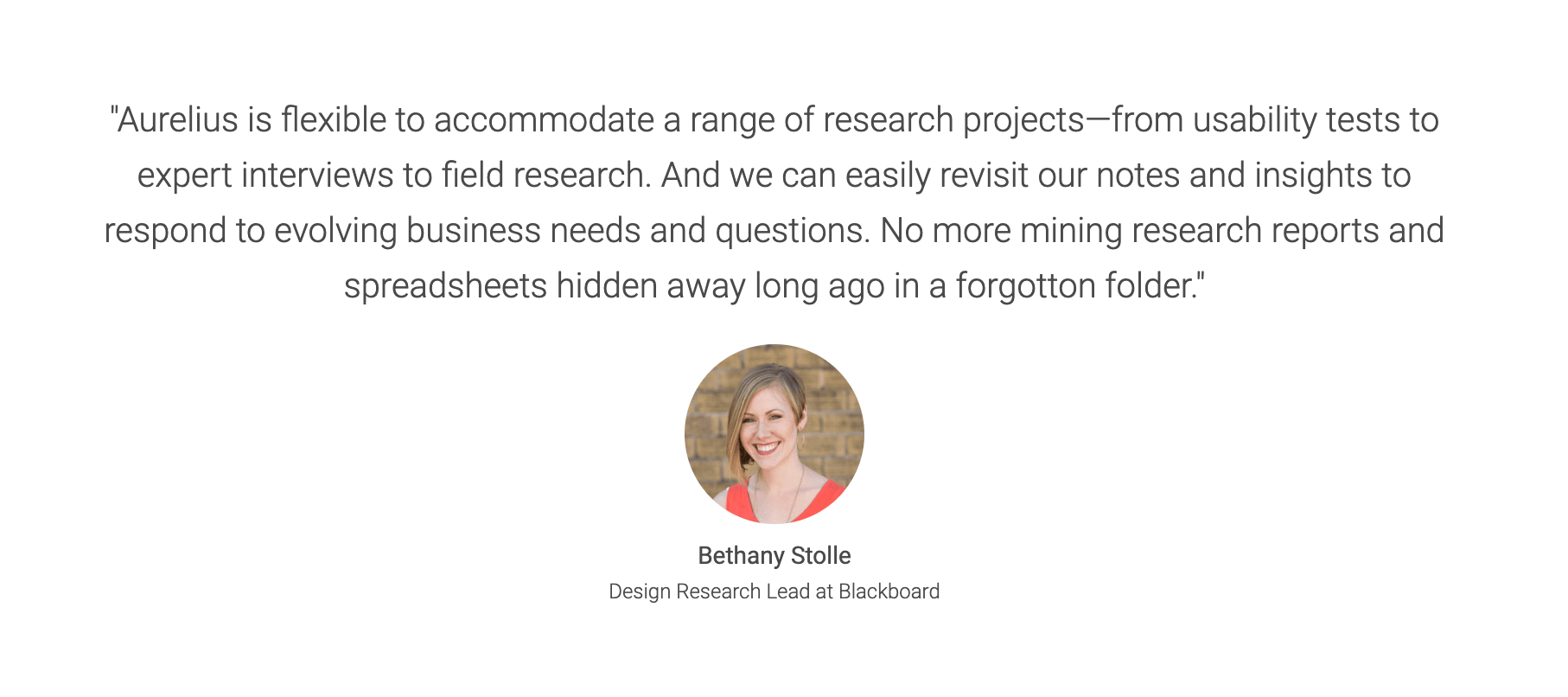 Insights help you summarize and share your user research with stakeholders. A few ways to use Key Insights include:
Highlight relevant text from your notes
Draw insight across current and past Projects
Share high-level points from user research with your team
Save time that stakeholders would spend reading the entire data by communicating insight from customer feedback or UX research
Parts of an Insight include:
Name of the insight
Description of the insight
Supporting documents and notes that led to the Key Insight
Tags that describe what type of insight it is
Priority such as low, medium, or high
Type of Insight such as feature, design, usability, or product or create your own custom type
You can create a Key Insight from:
Notes page:
Project Tags page: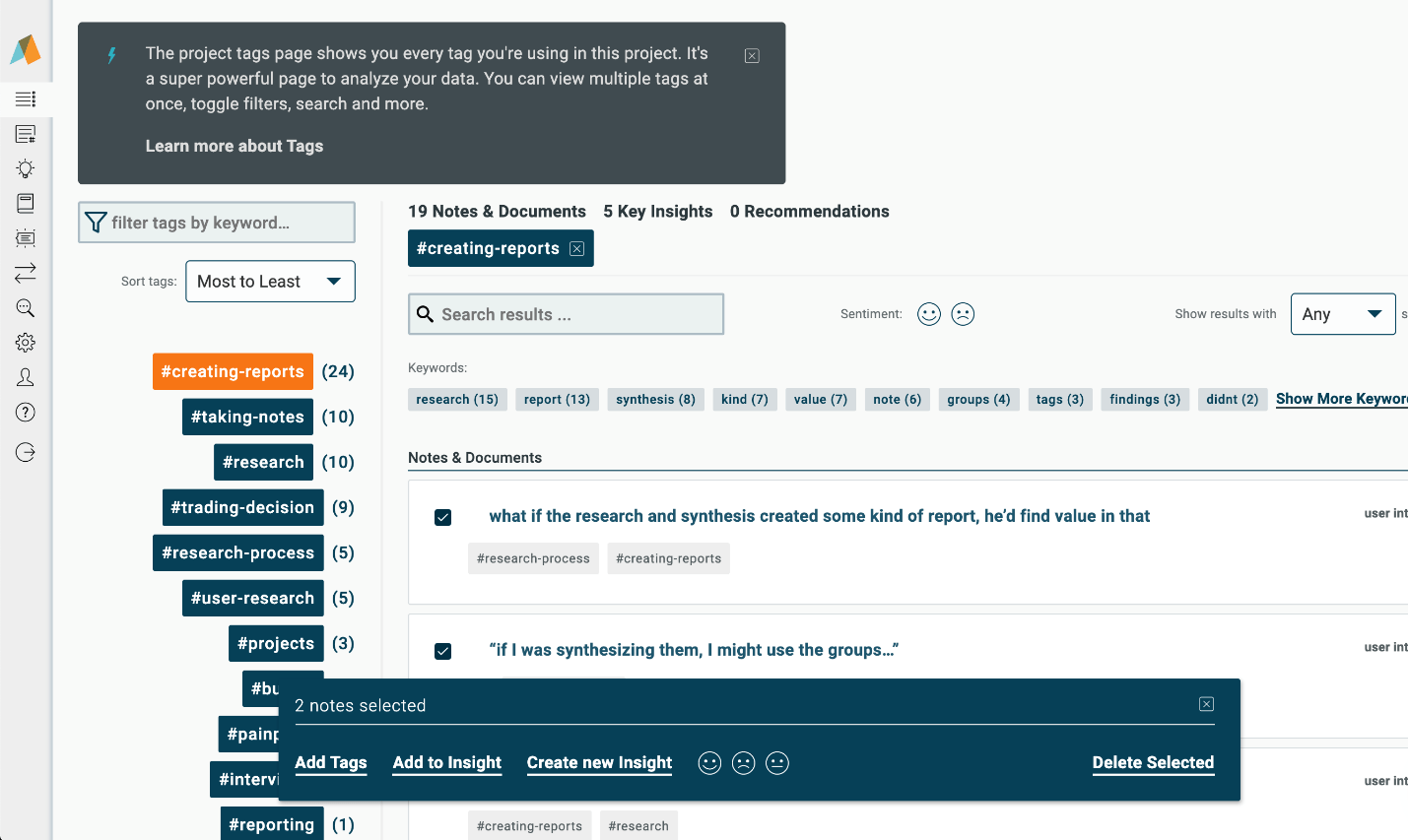 Report page: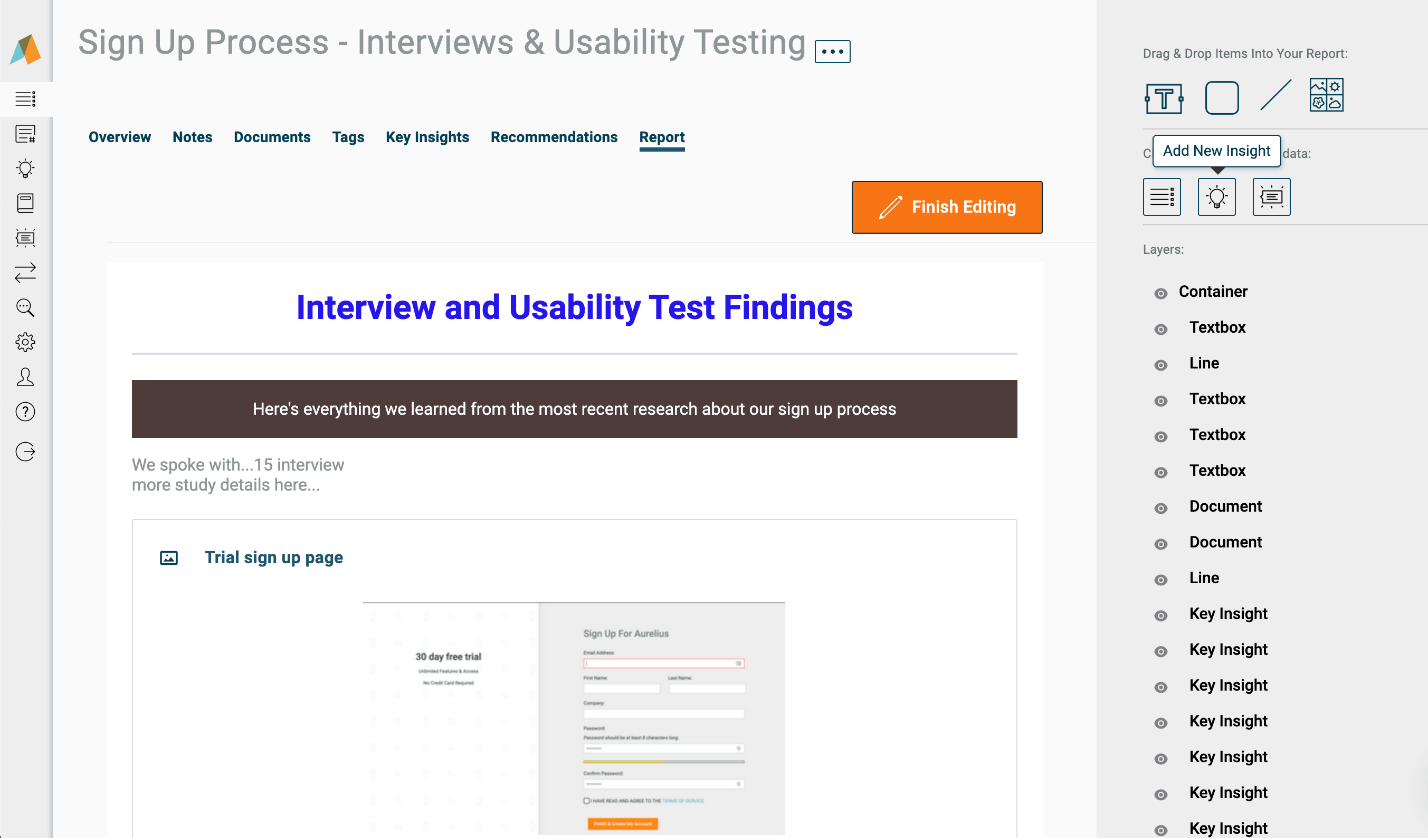 Key Insights page:
You can simply click "new key insight" from the key insights page on the project.
Universal Search
Quickly find tags, notes, documents, recommendations, collections, and Insight across Projects in Aurelius with our powerful Universal Search feature.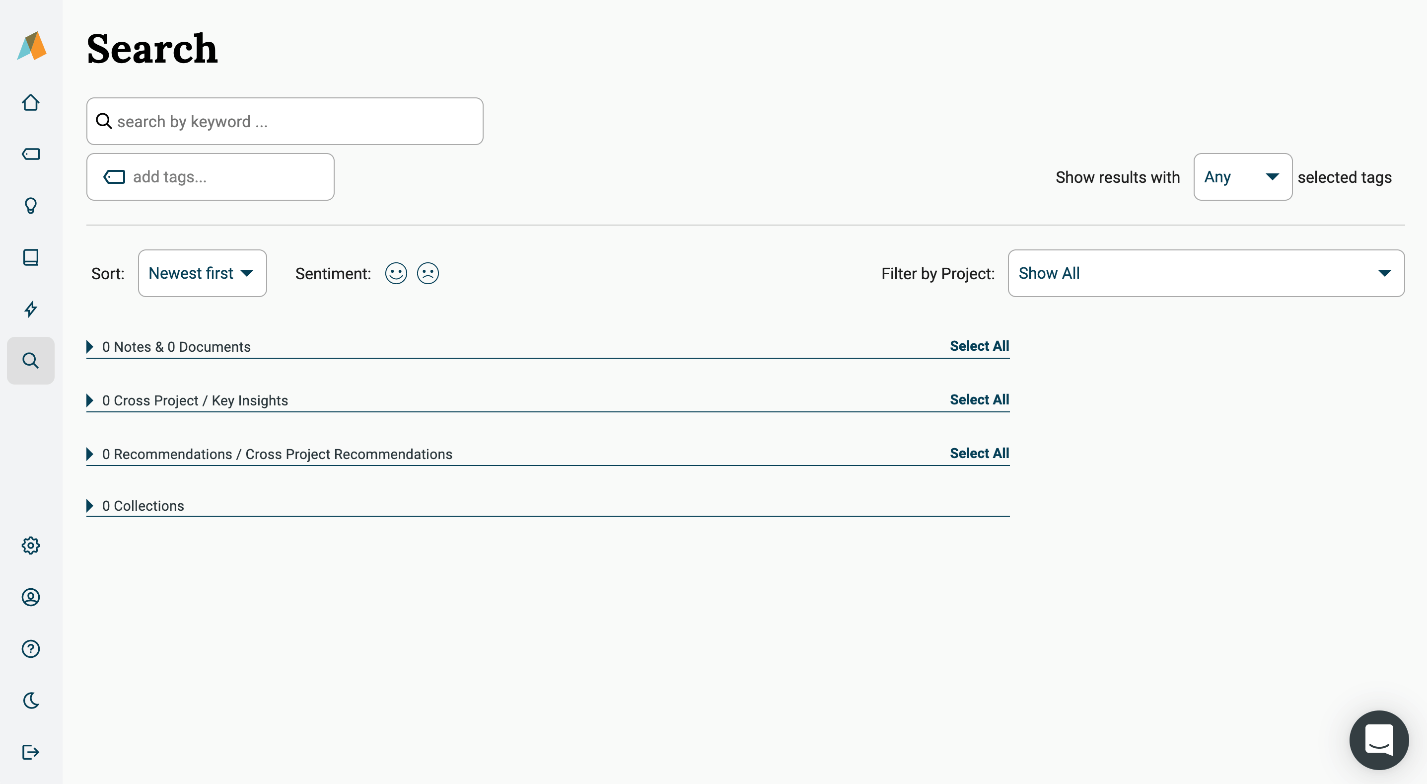 You can filter search results by:
Integrations with Jira, Zapier, and Zoom
Aurelius integrates with the tools you already use in your workflow. Integrations with Aurelius include:
Connect Aurelius to Zapier
Automate data with over 3000 apps when you connect Aurelius to Zapier. With our Zapier integration, you can send Key Insight from Aurelius to apps like Slack, Google Docs, Trello, and email.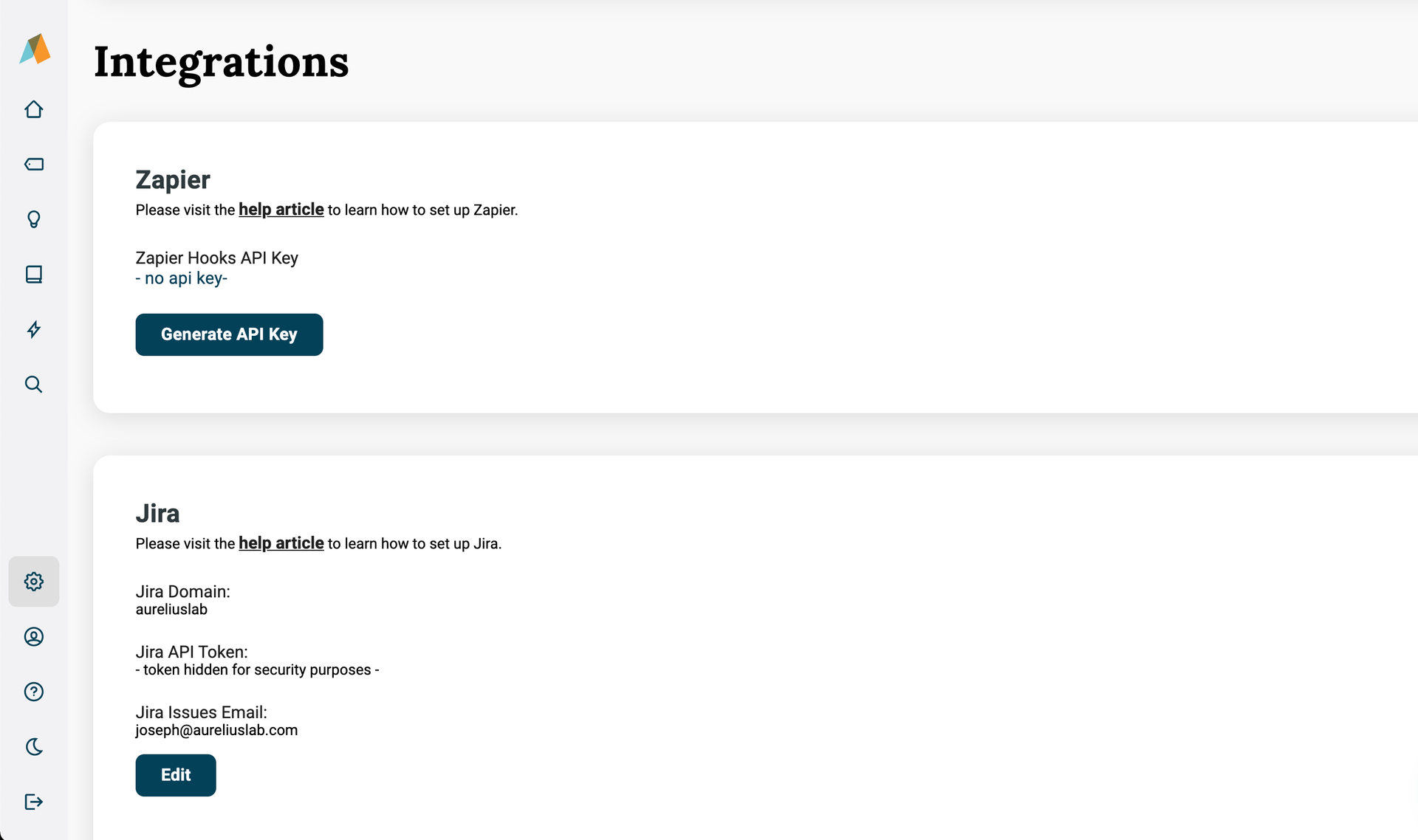 You can also use actions in apps like Trello cards, Zendesk chats, Google Form, and social media feedback to create notes in Aurelius. The Zapier integration is available to users on our Premium plan and up Aurelius plans.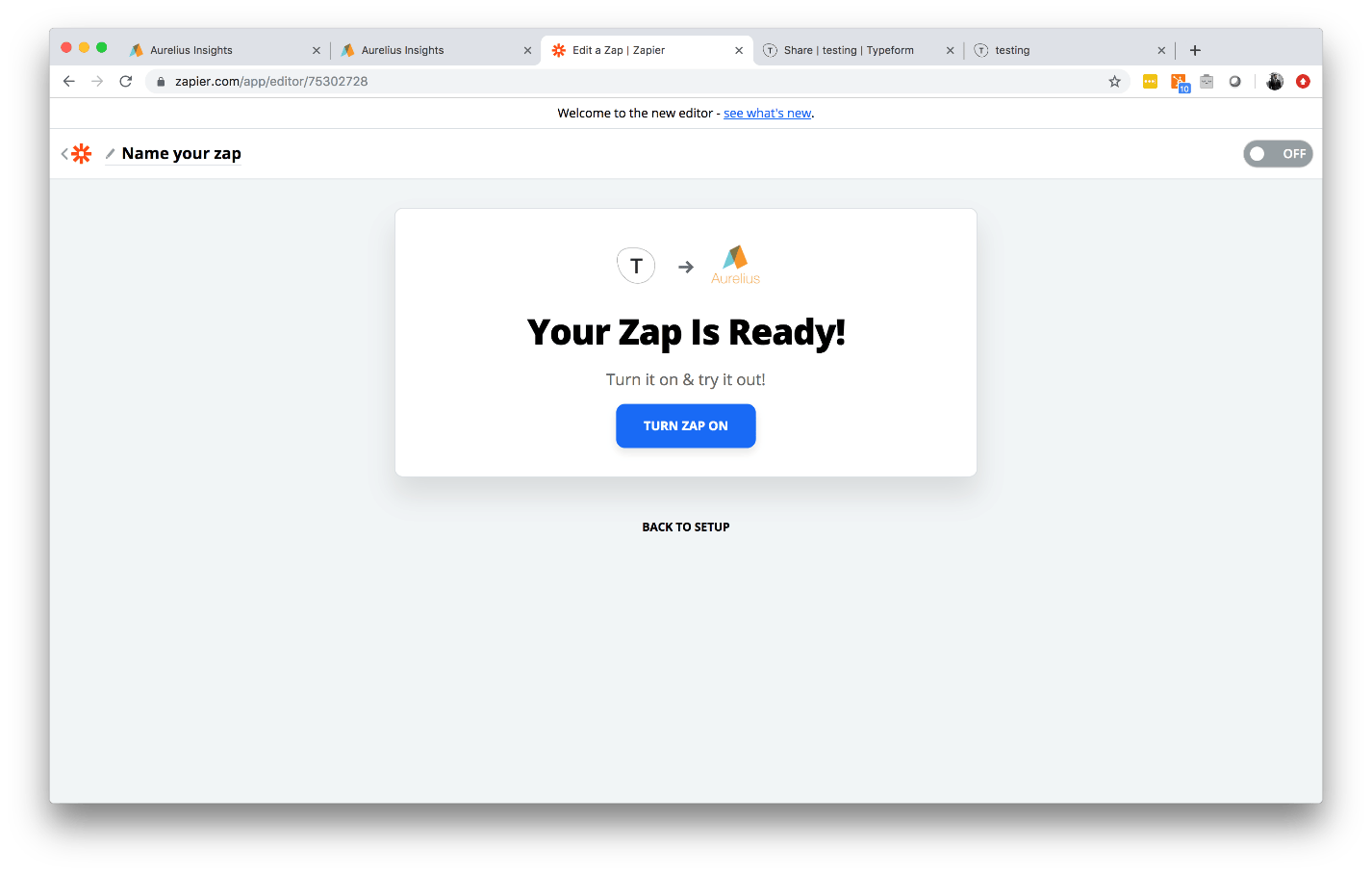 Connect Zoom to Aurelius
Using Zoom to interview respondents for your UX research? Connect Zoom to Aurelius to quickly import cloud recordings into Aurelius.
Authenticate your Zoom account with Aurelius, go to your Zoom account to view your recordings, and choose the meetings you want to import into Aurelius.
Watch this video to see how Zoom integration works with Aurelius:
Pleaseto watch this video.
Connect Jira to Aurelius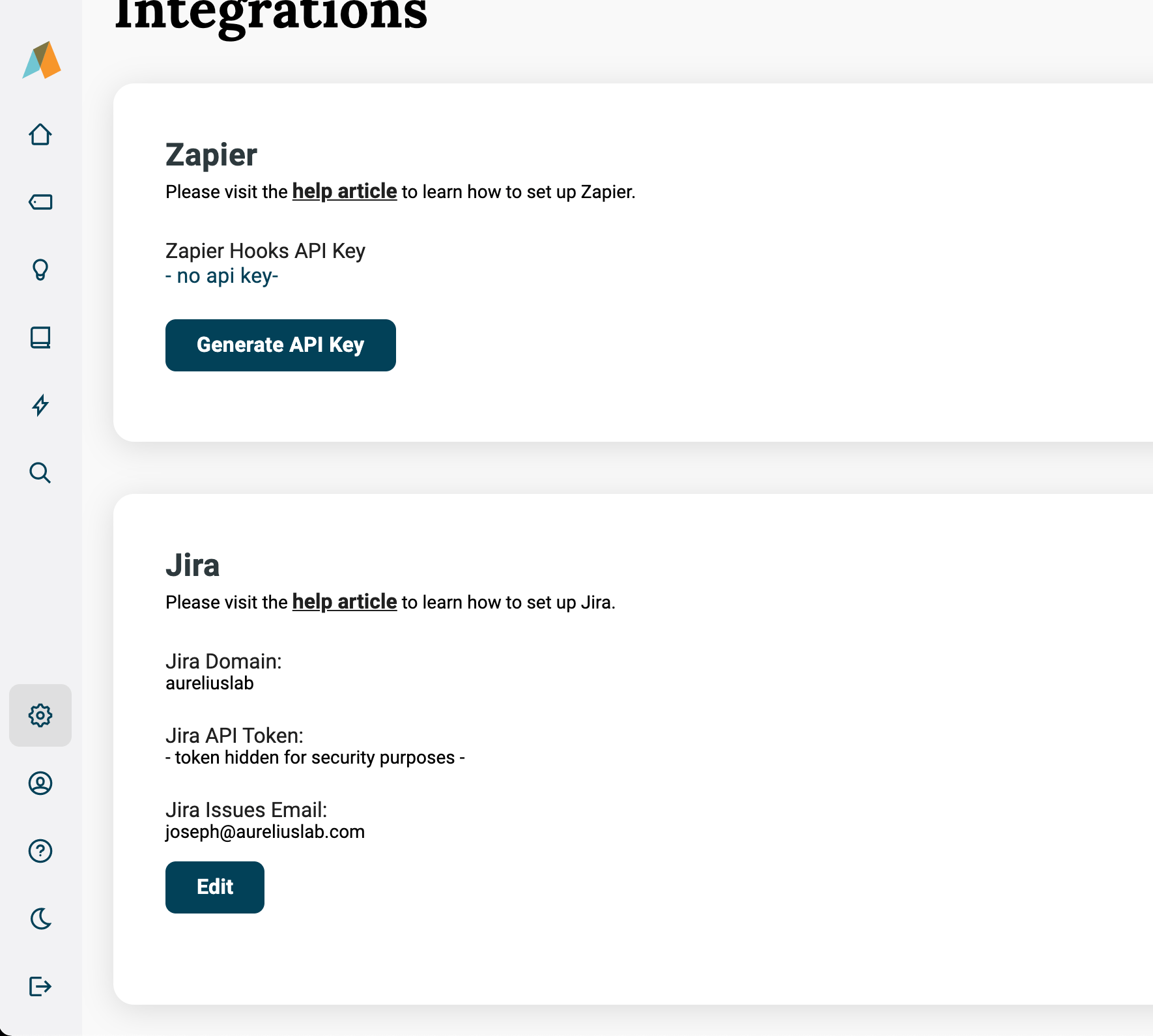 Want to sync all your tags, customer tickets, customer information, and more? Connect Jira to Aurelius with just three pieces of information:
Your Jira domain
A Jira API token
An email address to log issues
After configuring Jira, you can send Insight to Jira as a new issue type of your choosing.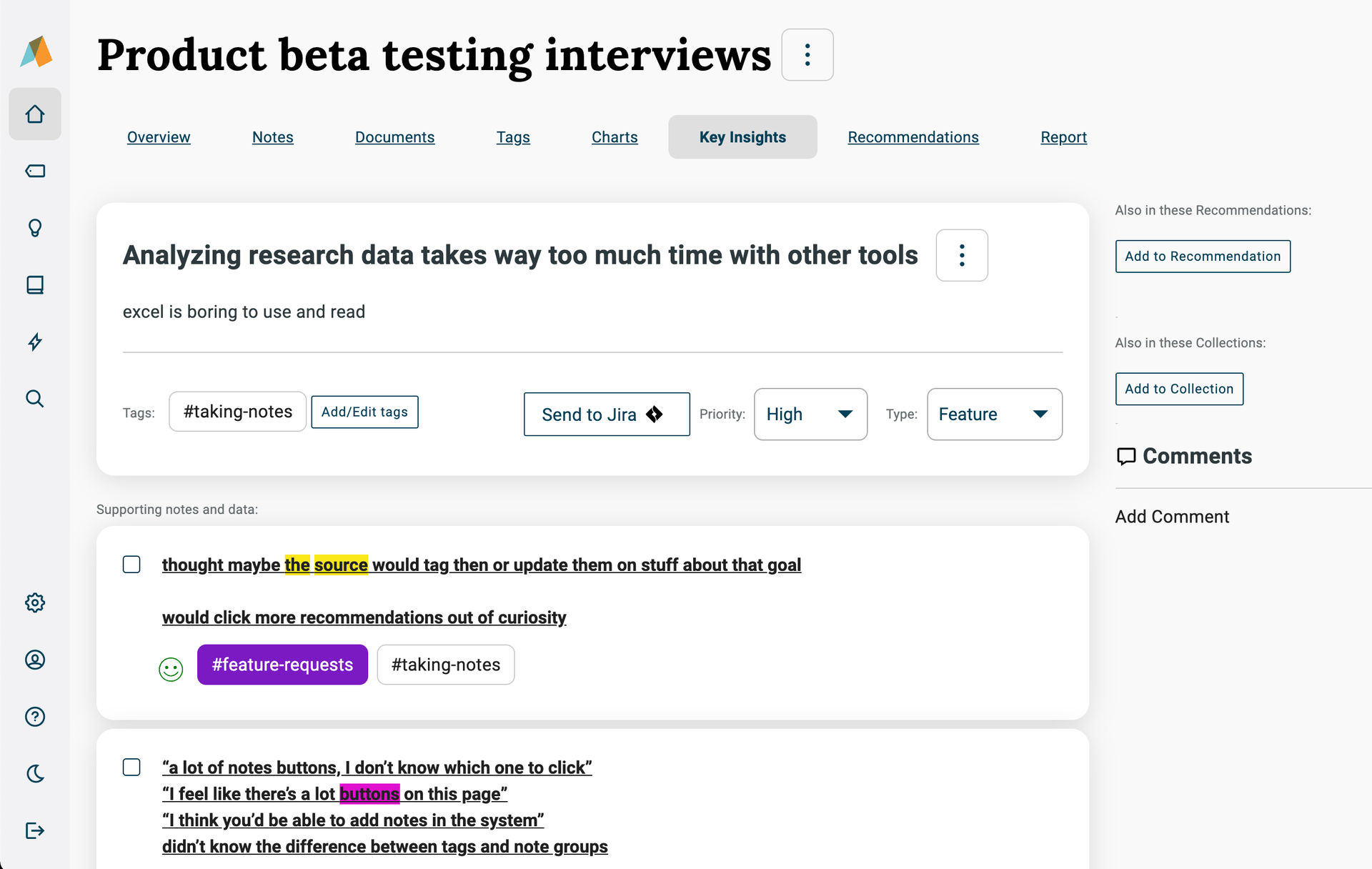 To get started, choose the project you want to send Key Insight from, choose the applicable issue type, finish and send to Jira.
The finished note will look like this screenshot below. You can edit the bulleted list however you like.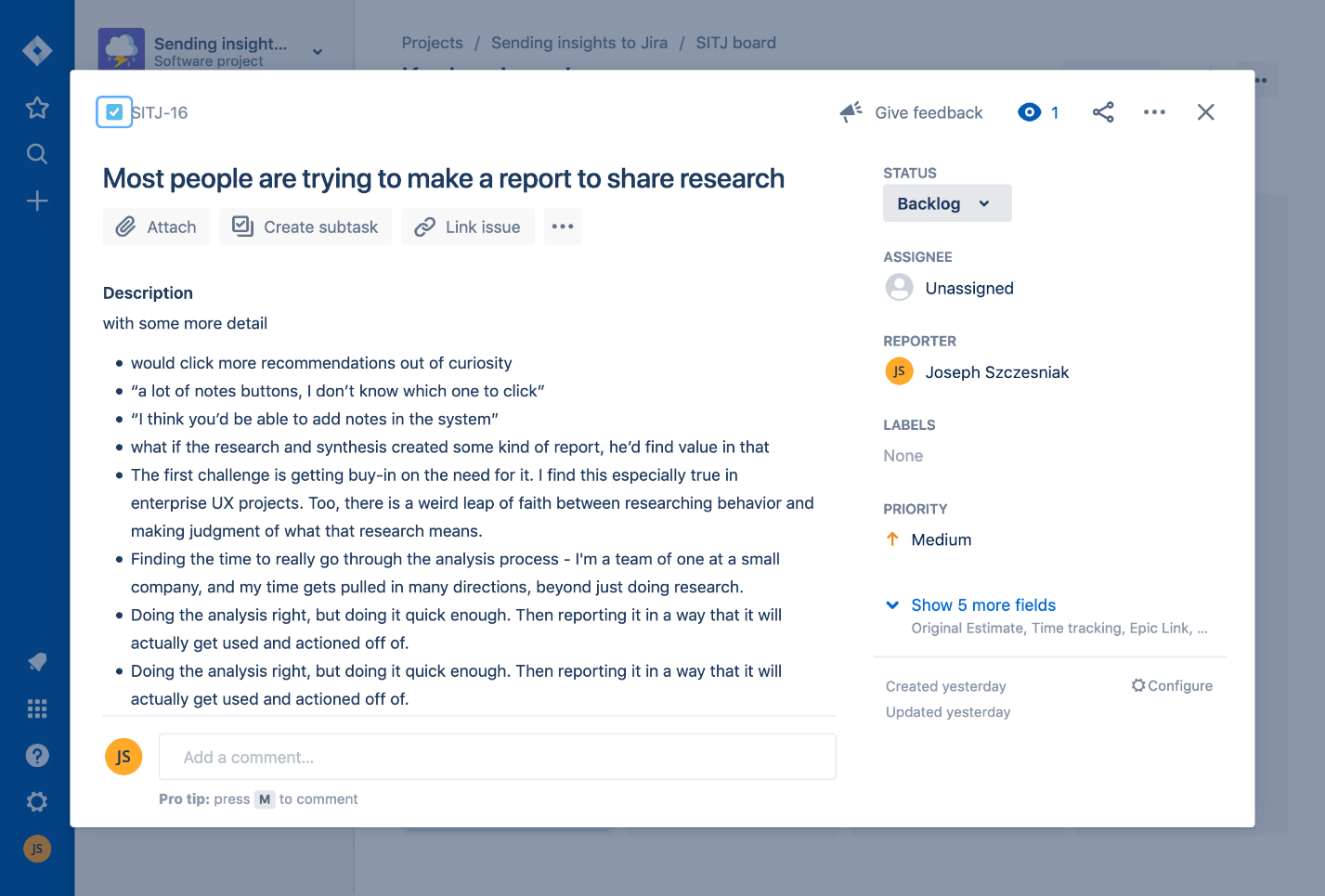 Single Sign-On (SSO)
Single sign-on is a session and user authentication method that allows users to securely authenticate with multiple websites and applications through one set of credentials.
SSO simplifies password management for administrators and users alike. You don't have to track multiple sets of login credentials and can access applications much faster.
To use SSO on Aurelius, you must have an email as an Application Attribute that matches your Aurelius login details.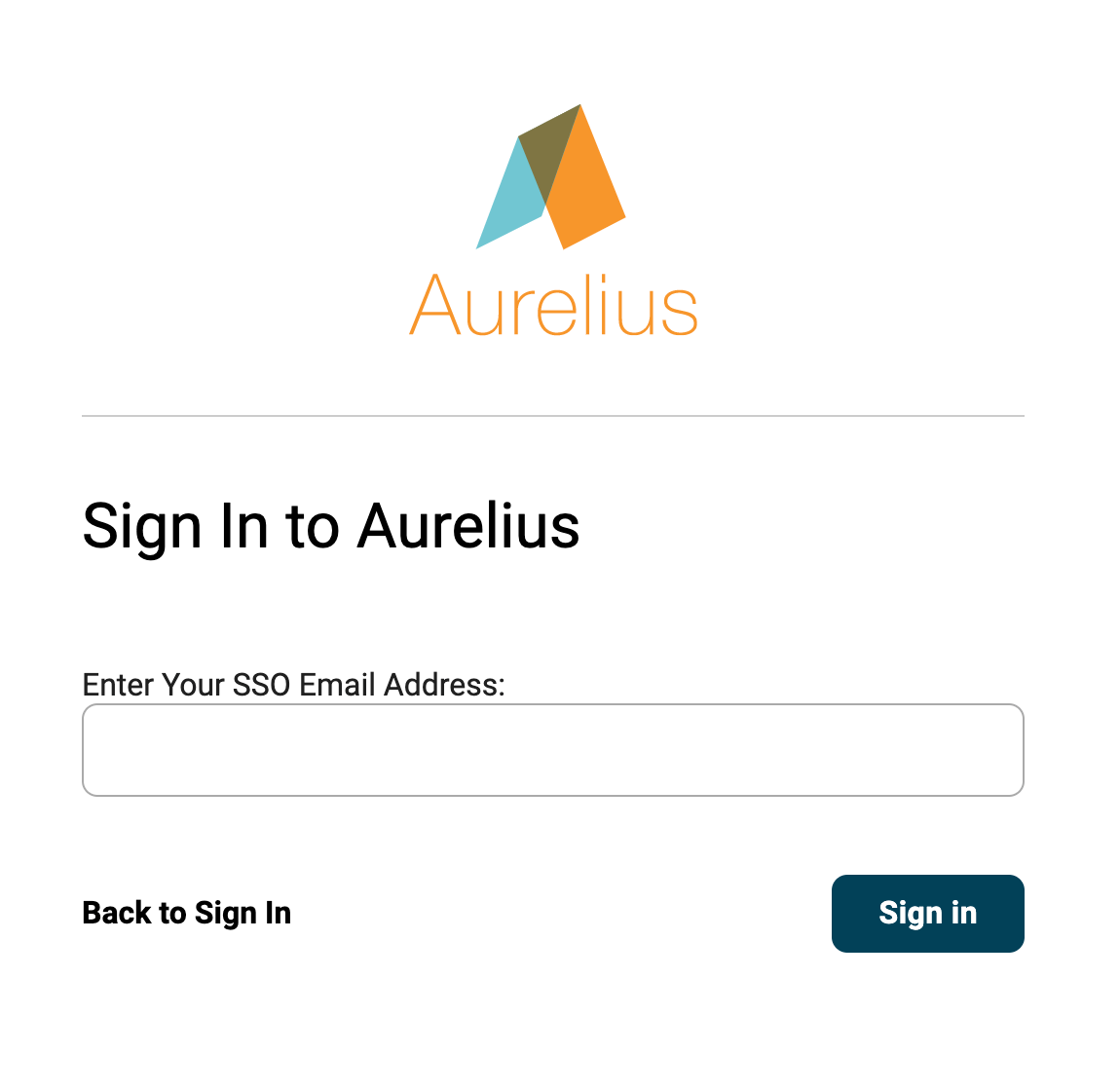 How Does Aurelius Differ From Other User Research Tools
Magic Upload
While most user research software limits the type of file format you can upload or turn into readable notes, Aurelius gives you free rein with our Magic Upload feature.
With Magic Upload you can add research notes to your project from a document that has selectable text such as Word, Excel, PDF, Google Docs, and more..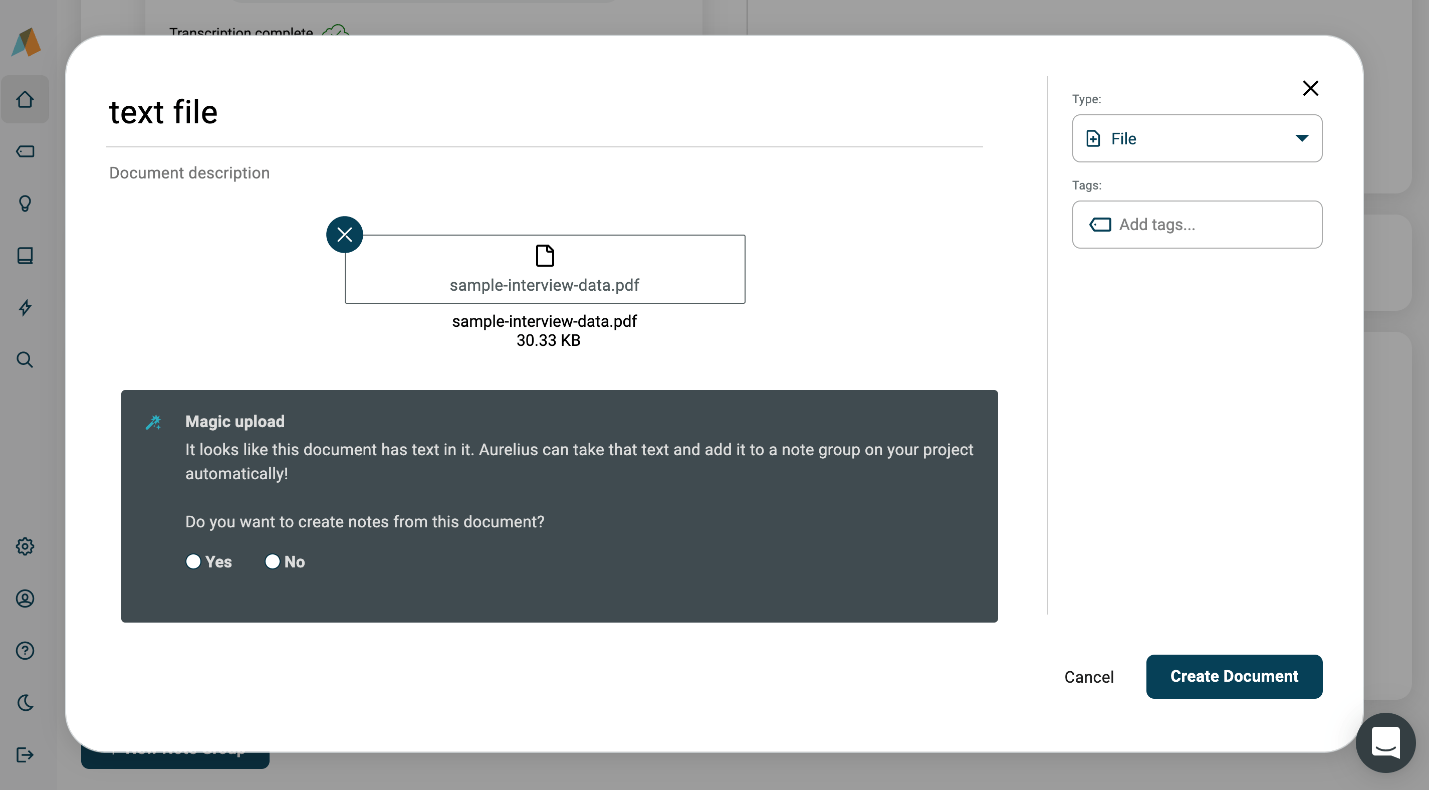 Got a video or audio interview that you want to turn into text? Use the Magic Uploader to add your media file and transcribe your zoom recordings into notes. You can focus on other tasks while the magic uploader works in the background. We'll send you an email when your upload is complete.
Automatic Report Builder
So, you've got your Key Insights, made your Recommendations and you're ready to assemble everything into a Report. Aurelius simplifies reporting with our Automatic Report Builder that quickly turns Key Insights and Recommendations into editable Reports you can share with anyone as a PDF or live link right from Aurelius.
Want to personalize your Report? You can change the design and add more company brand elements such as color, text, size, and spacing with tools in the editing panel.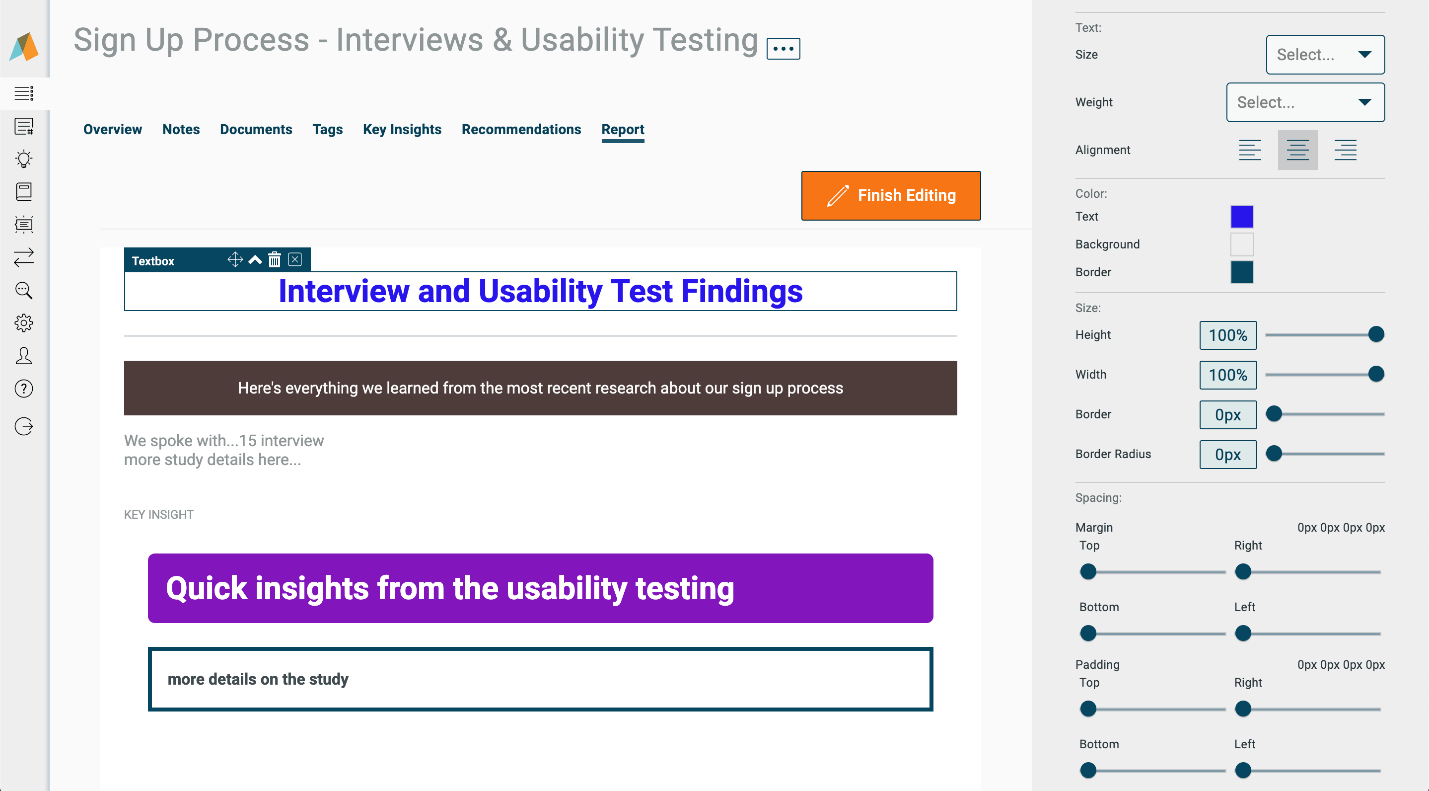 Need to add a Document to your Report for more context? You can upload new Documents to the Report by dragging the Document icon to the canvas.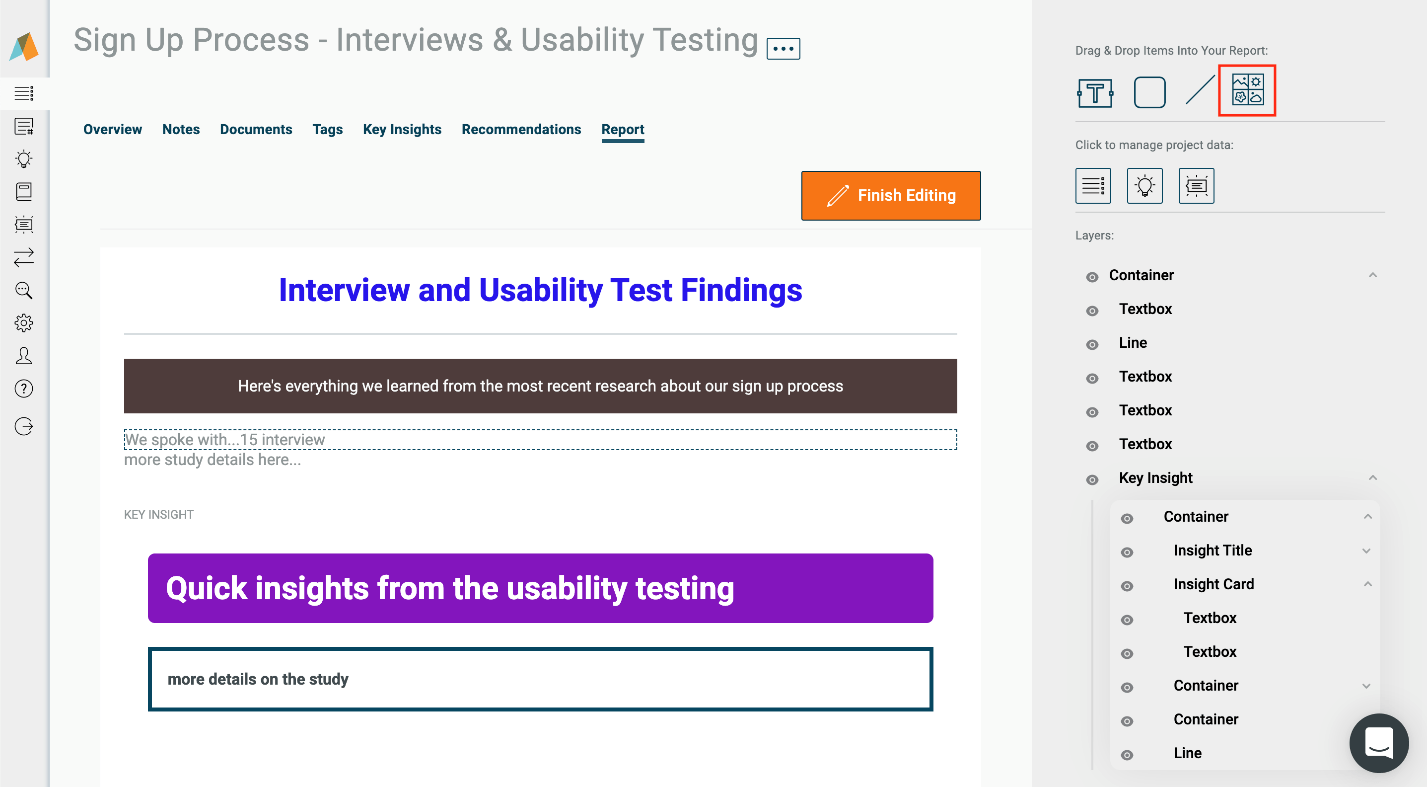 Want to add comments to the Report before sending it to your teammates and stakeholders? Drag the free text icon to the report canvas to add text to your Report.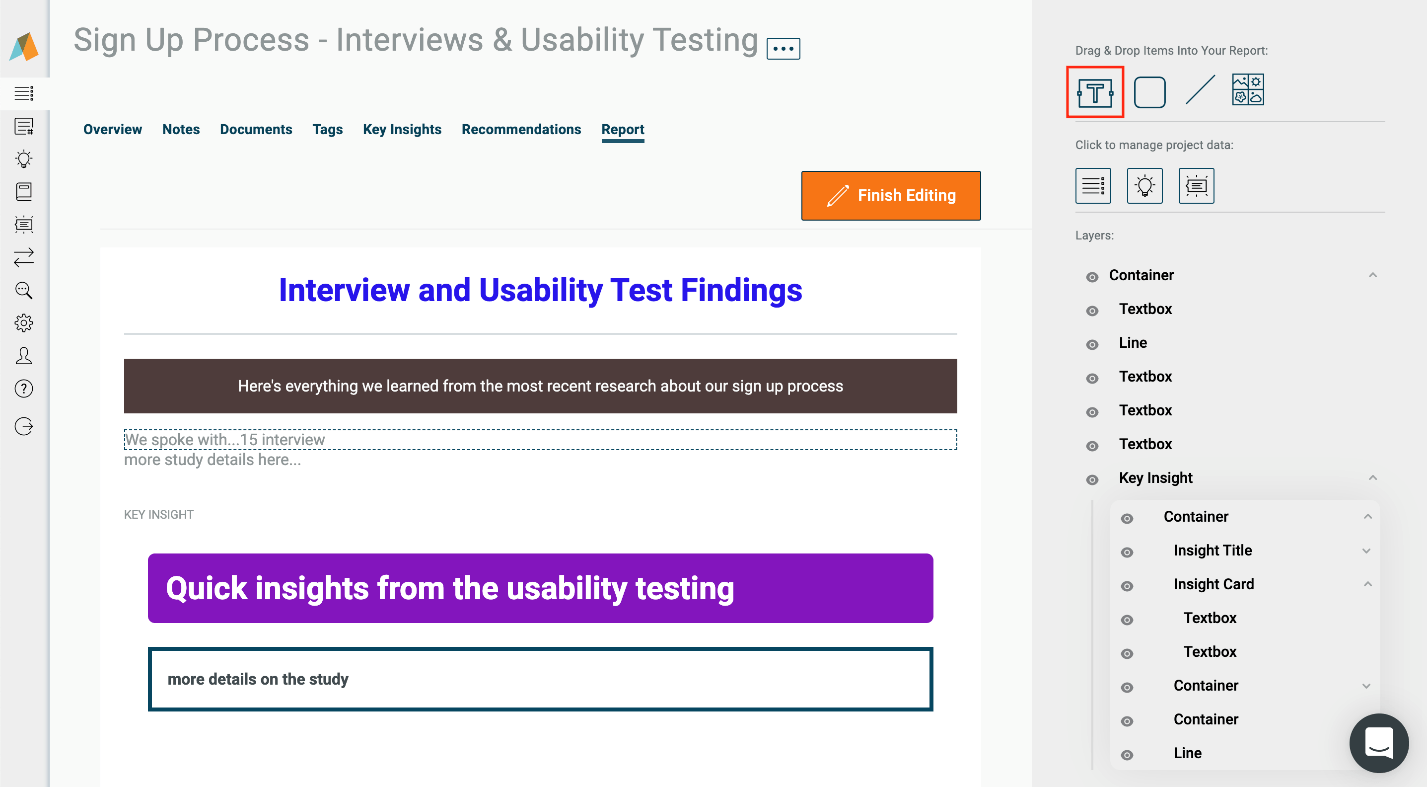 You can also create new Insights and Recommendations from a report which will be added to your Project. If you don't want all your Recommendations and Key Insight to show in the report, you can toggle the show/hide to choose what your stakeholders see in the report.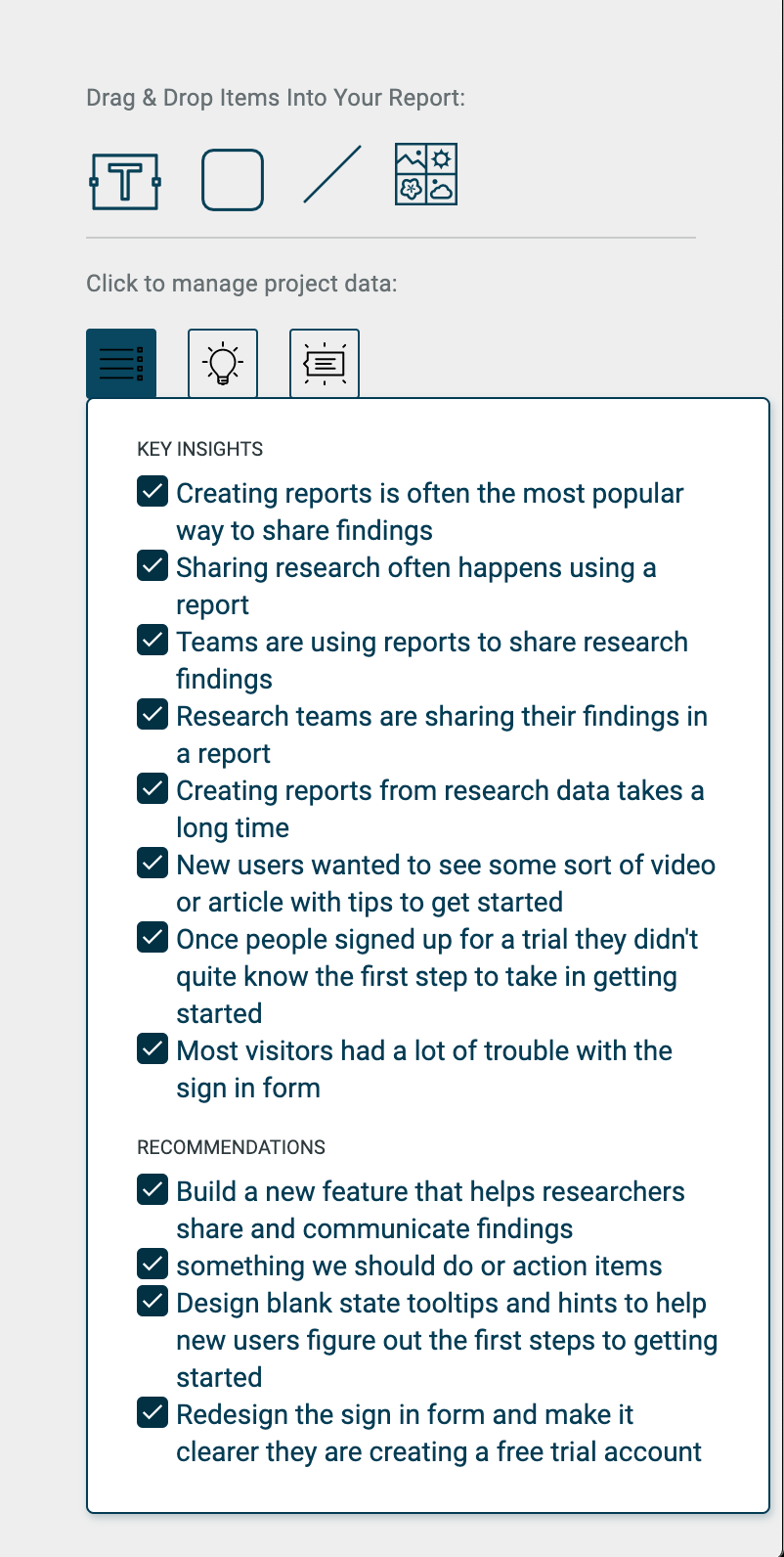 Keyword Analysis
Do you want to find patterns in your notes and save time looking for insight? Perhaps you're looking for words that come up repeatedly among respondents?
Our Automatic Keyword Analysis shows you keywords plus the frequency with which they are mentioned. Quickly find patterns in data sets to create insight from qualitative feedback like transcripts, notes, surveys, interviews, and more.
The best part? The keyword analysis is automatic and immediately filters notes as soon as you upload them to projects. Rather than pressing "CRTL + F" to find patterns with random words, you'll see it at the top of your projects when working in Aurelius.
You can use the keyword analysis feature from:
The Notes page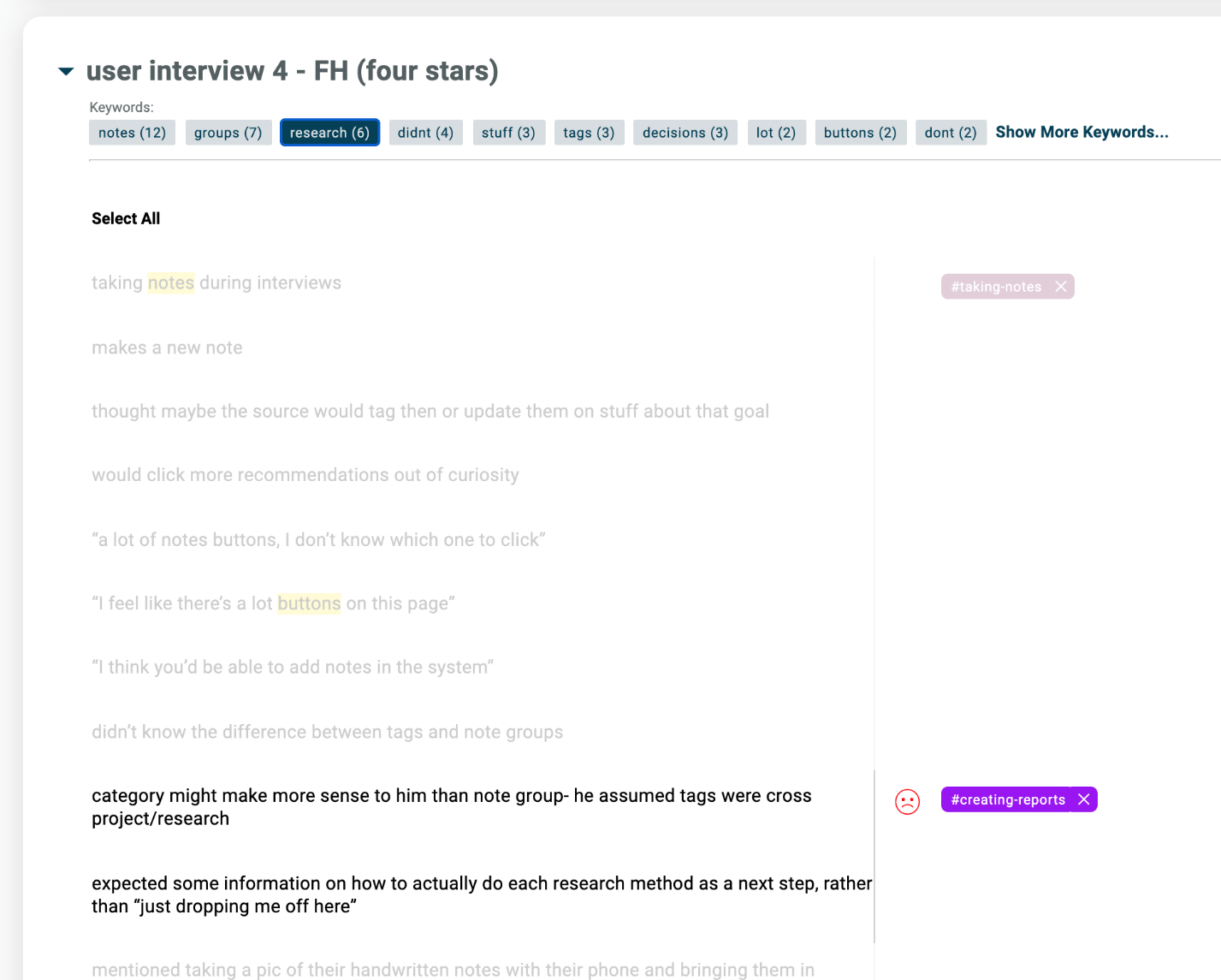 Tags page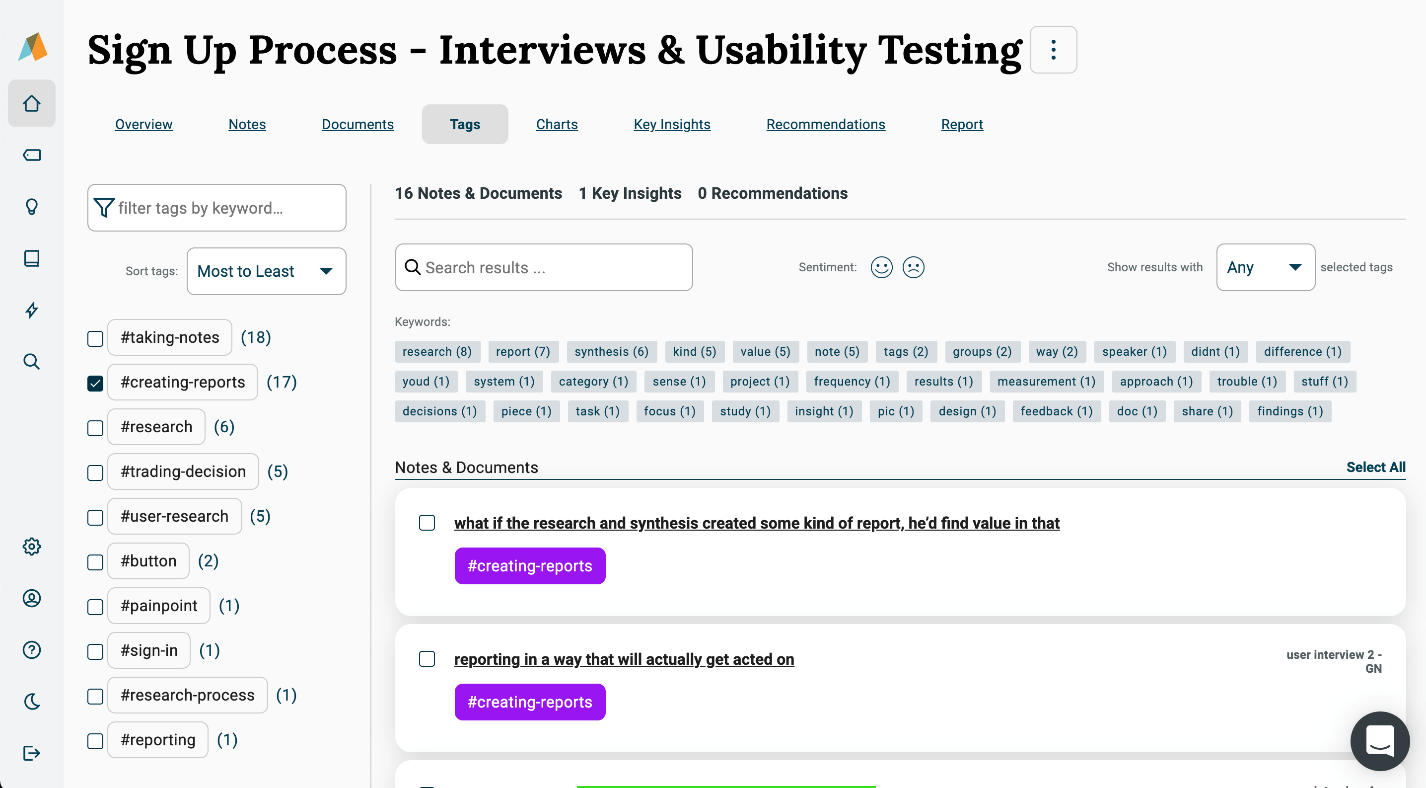 Cross Project Insights
Where other UX research repository software limits your insight to individual Projects, Aurelius empowers you to do more.

With the Cross-Project Insight feature, you can jump across numerous Projects to get Insights that allow you to make informed decisions. Whether it's an old Note from 5 years ago or an interview you recorded last week, you call capture Key Insights using Notes from all your Projects.
You can create Cross-Project Insights from:
All Tags Page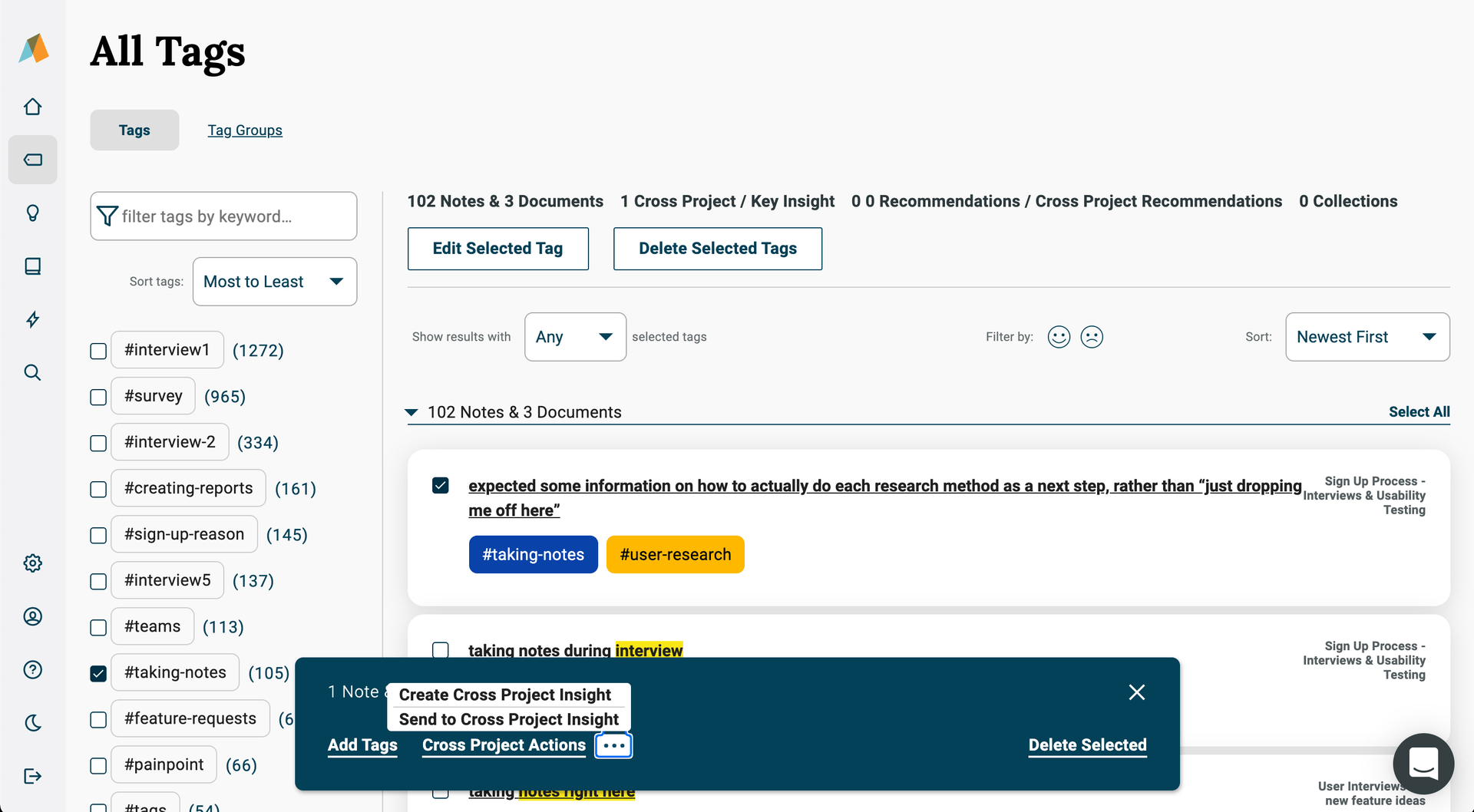 All Key Insights Page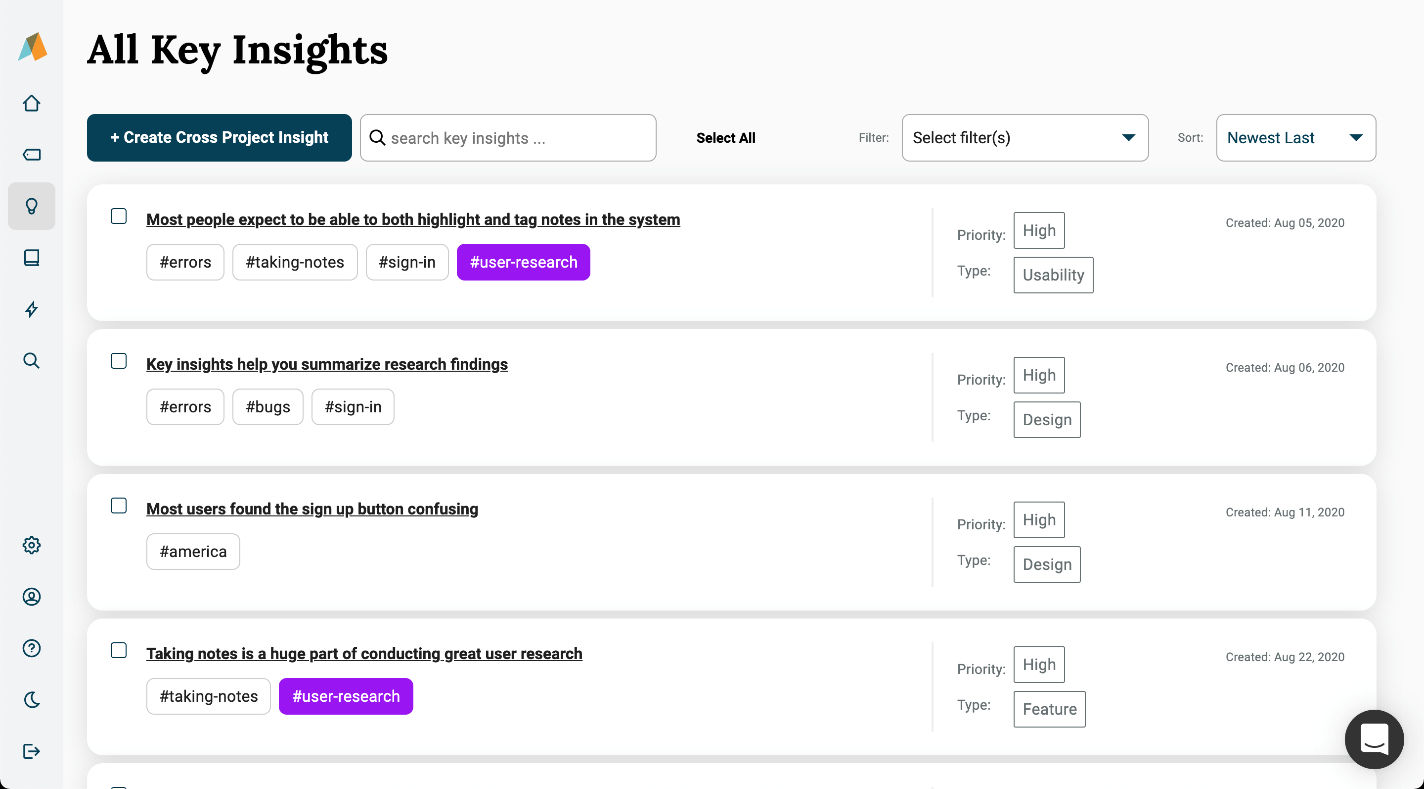 Universal Search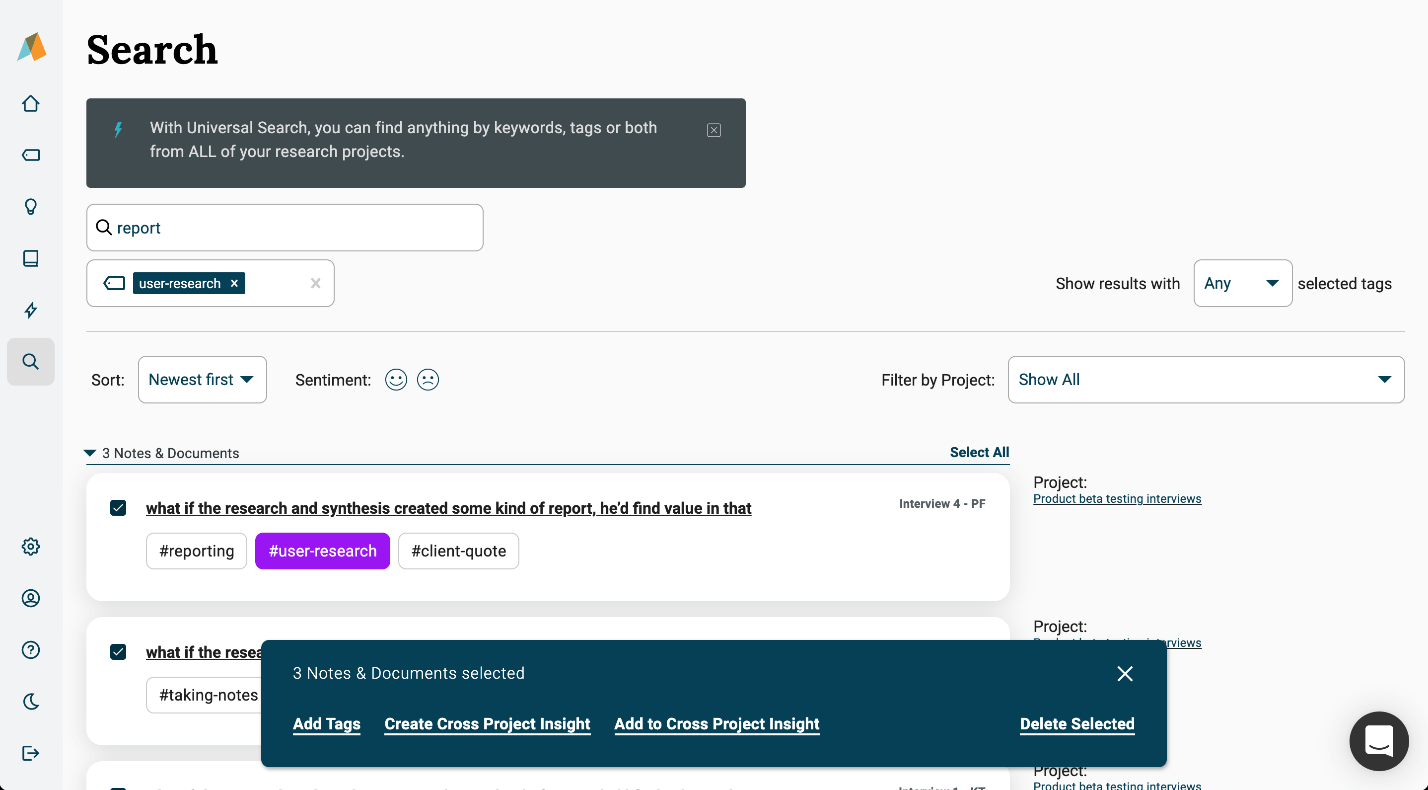 Cross Project Recommendations
Do you have multiple Projects but you're not sure how to harness your research findings across all your Projects? You can create Recommendations with Key Insights from multiple Projects with Cross-Projects Recommendations.
Unlike the Recommendations you create from individual Projects, a Cross-Project recommendation captures ideas, suggestions, and Recommendations from multiple Projects. You can make a Cross-Project Recommendation from:
All Tags Page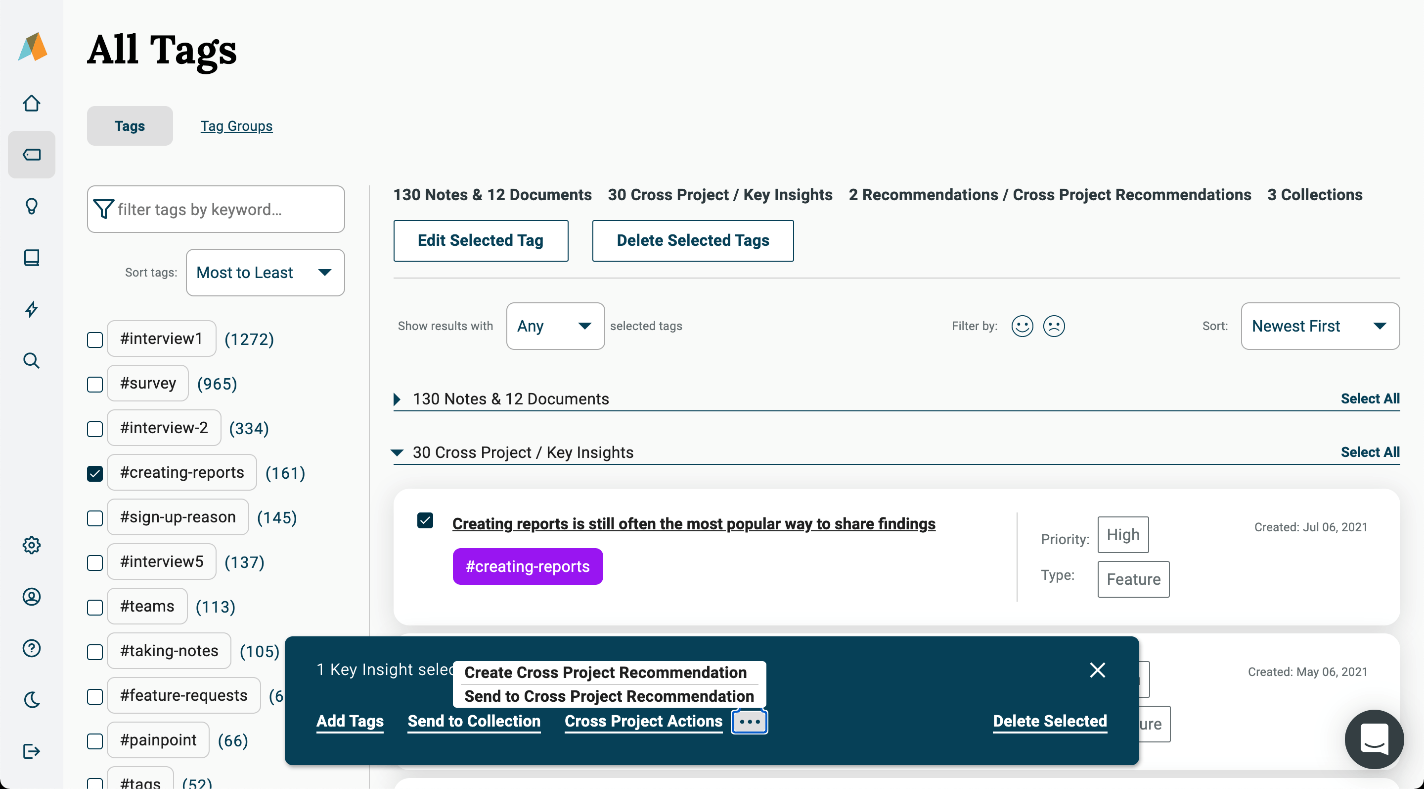 All Insights Page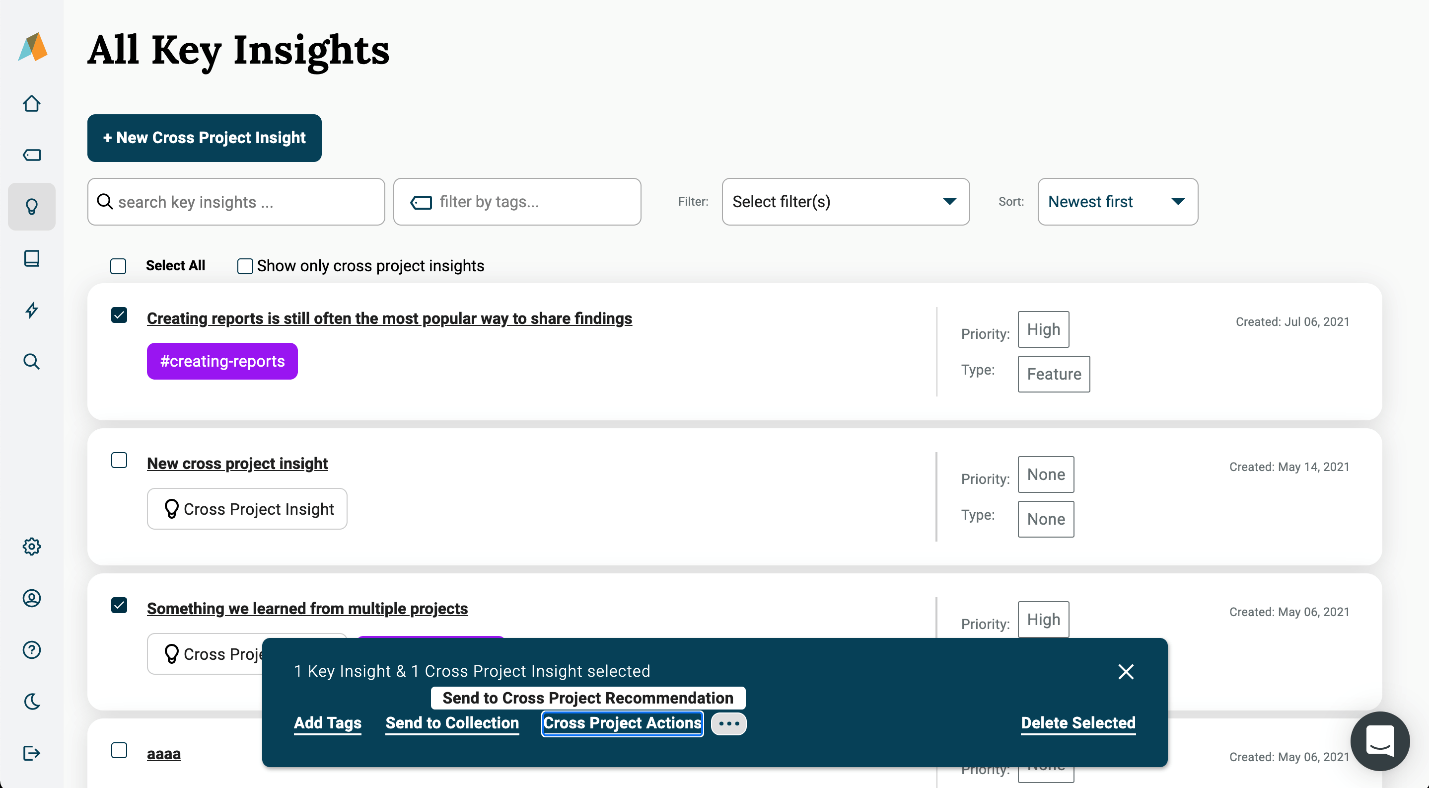 Universal Search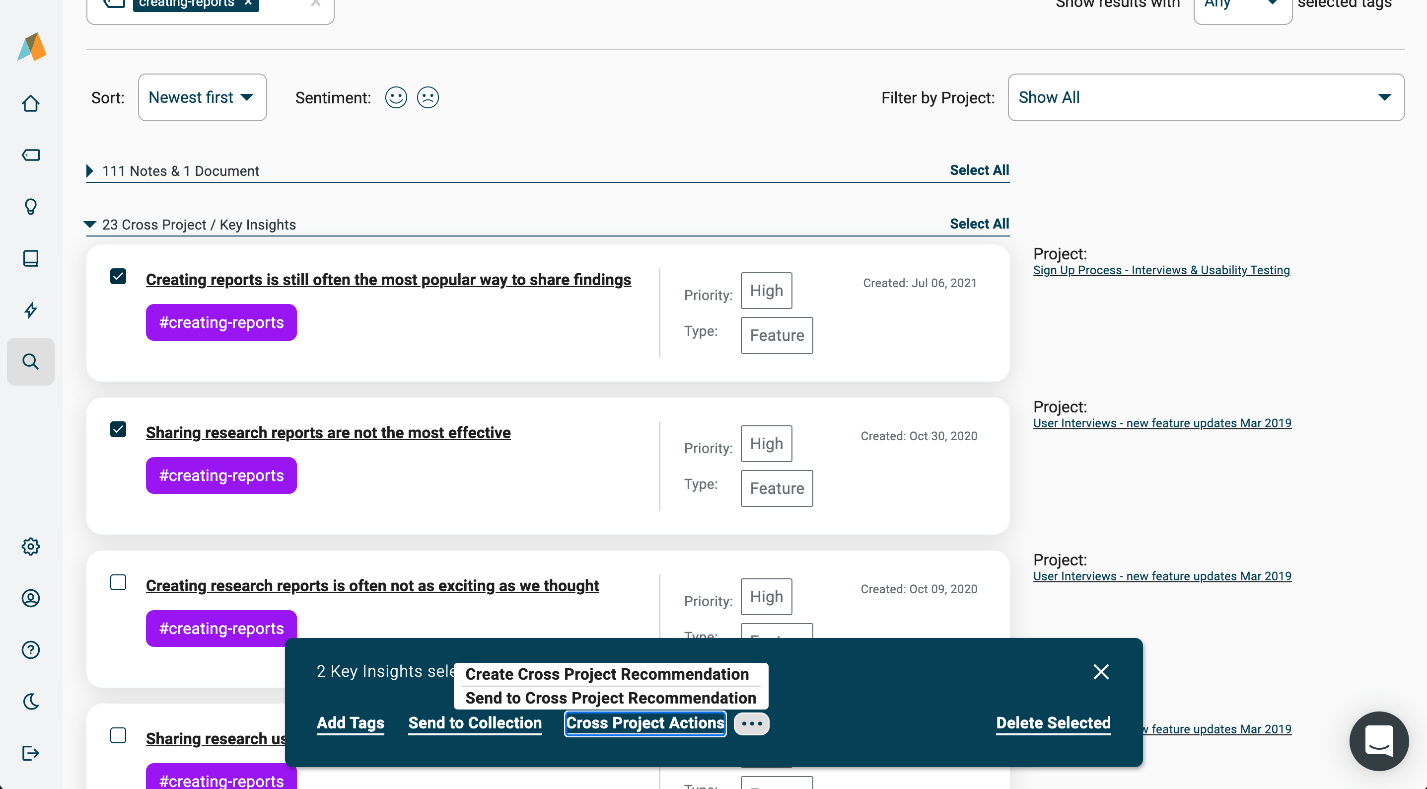 If you're making recommendations from old and new projects, getting insight across large data points is a breeze with Aurelius.
Collections
Collections are custom groups of Recommendations and Key Insights from any projects you've created in Aurelius.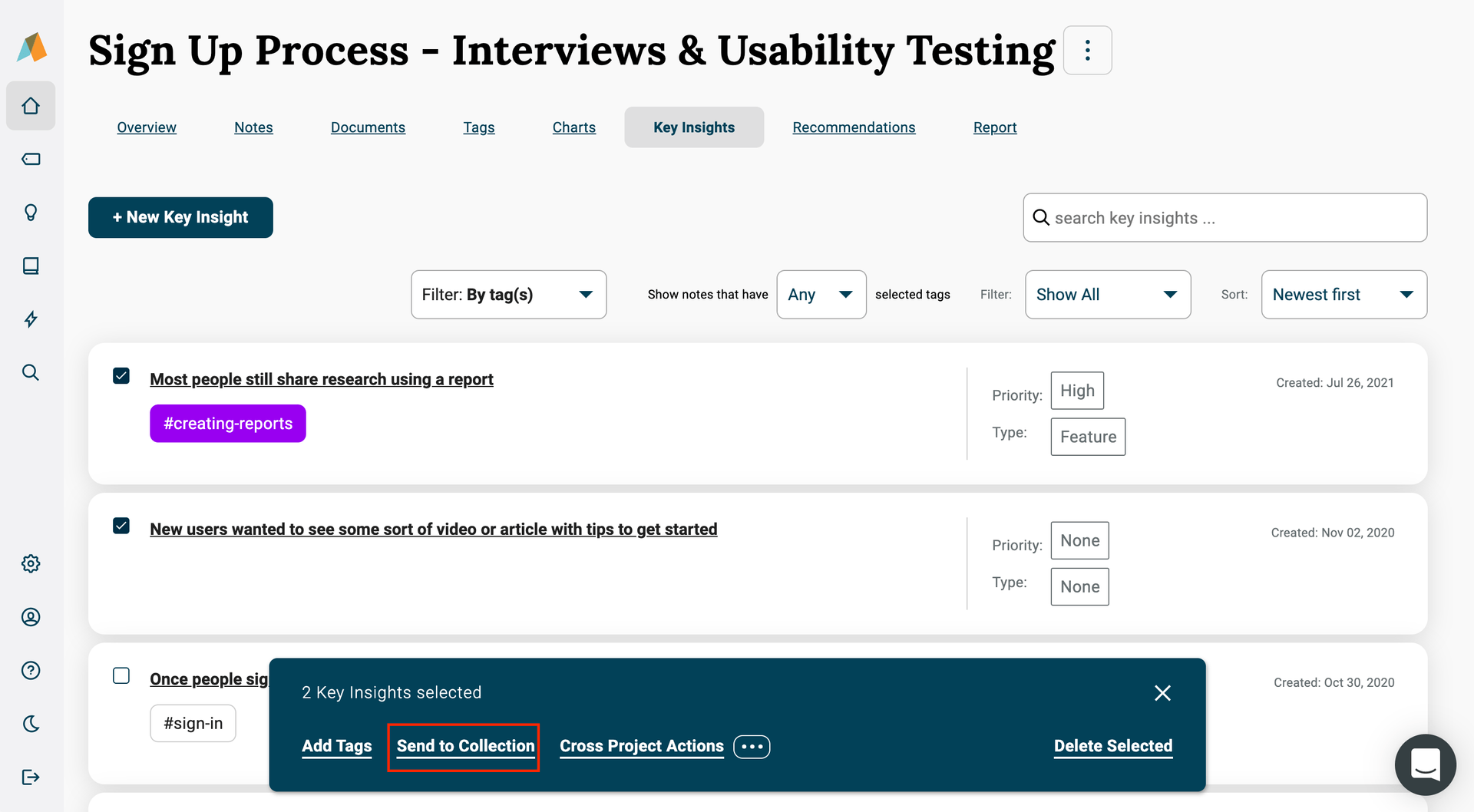 Let's assume you're doing follow-up research as part of a product update. You can create a Collection from past Key Insights and Recommendations on previous Projects and add it to your current Project to share with your company.
You can also add Tags to your Collection and view them under each individual Tag later on.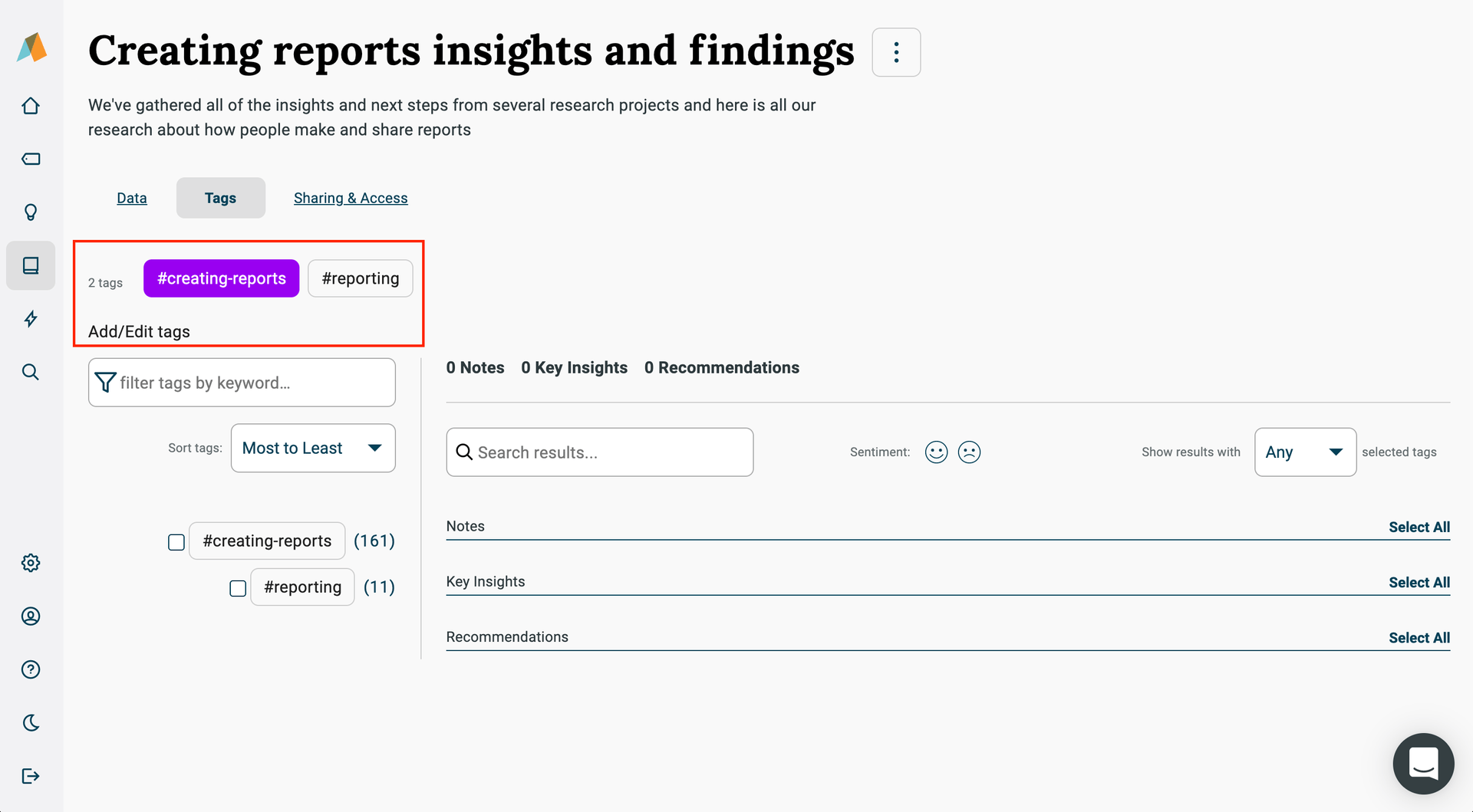 Do you want to share your collection with a coworker but they don't have an Aurelius account? You can send a read-only live link and they'll see any changes you make on the shared Collection.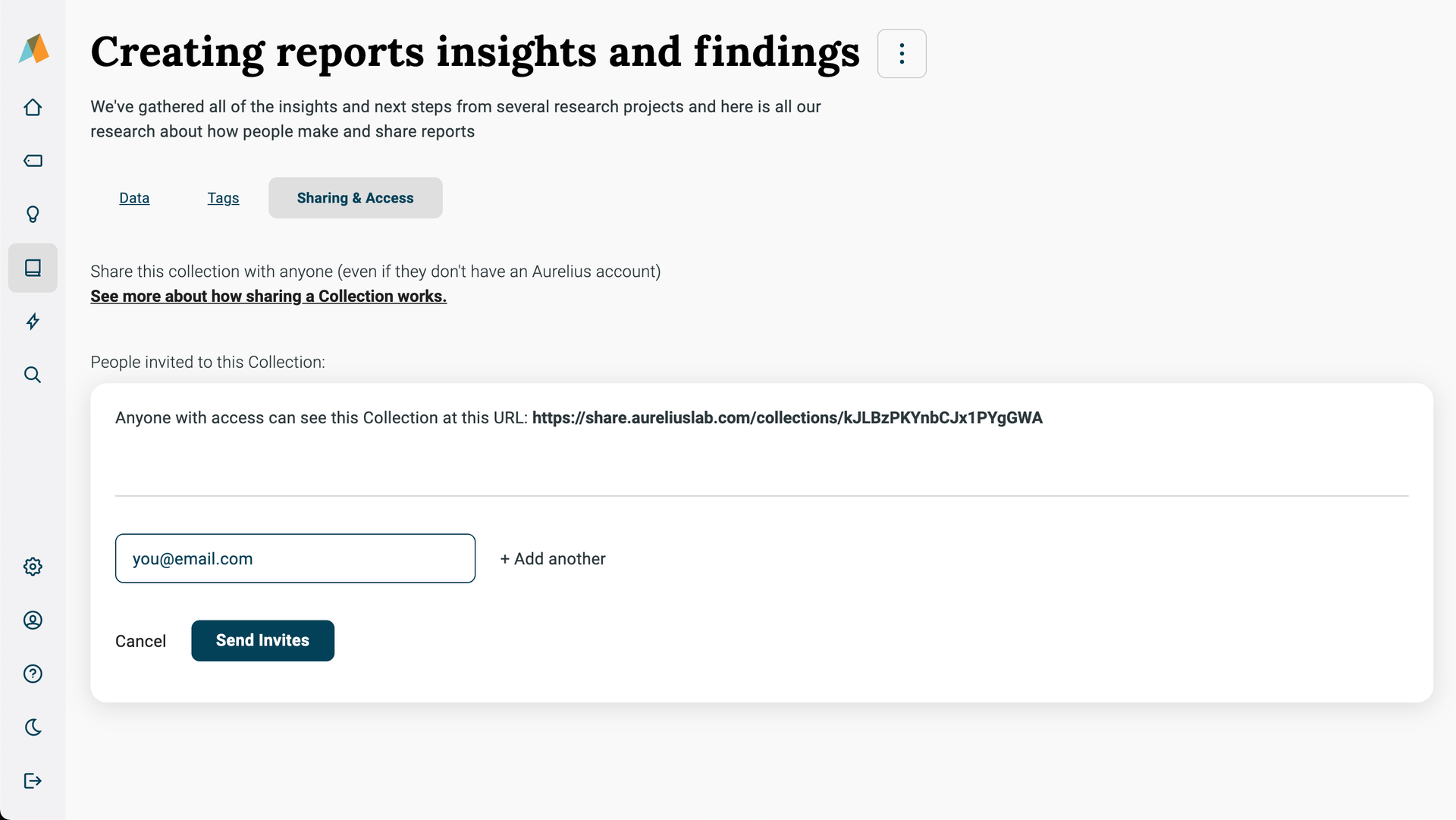 Researchers can use collections to:
Gather insight around a topic of interest, product, persona, or feature
Create a research report
Leverage past research insight to find answers to questions
Unlimited Users, Projects, and Storage
While other UX research tools limit the number of users you can add to a project, Aurelius lets you invite your entire team to collaborate on projects. Every plan you purchase includes the option to create unlimited projects, add unlimited research materials (including video and audio) and never worry about losing your data with unlimited storage.
What Results Can I Expect from Aurelius?
Conducting user research is just one-half of the equation. You need to turn research into recommendations if you want your findings to be implemented.
Rather than throwing your research findings over the fence and hoping for the best, research repository software like Aurelius helps you synthesize the data, find key insights, make recommendations, and present your findings confidently.
A few results to expect from Aurelius include:
Collaborate with the design team and other departments
Document your process and capture insight for future use
Turn research data into reports that can be easily understood by key stakeholders
Prioritize your findings based on what's important
Show benefits and consequences
Flag issues you found during testing
Make informed recommendations on how to improve a product
Create engaging presentations that make it easy to absorb your findings
Get better at creating user-focused products
Suggest next steps
Looking to Start a UX Research Project? Try Aurelius Free for 30 Days
Gathering data is one-half of UX research. You need a robust user repository software like Aurelius to quickly synthesize your data, find key insights, and share your findings with key stakeholders.
If you're not ready to commit, you can try Aurelius free for a month. It's a great way to take Aurelius for a test drive to see if it's ideal for your user research needs.